Coo Trucks have been absorbed into a new venture called Next Trucks, but Coo has been making trucks since 2015 and the M2-0R was their most recent project. These are budget friendly with high performance.
I have been riding them for roughly two months now and with that time I've really come to know them. You'll be surprised to learn what makes them different from everything else on the market.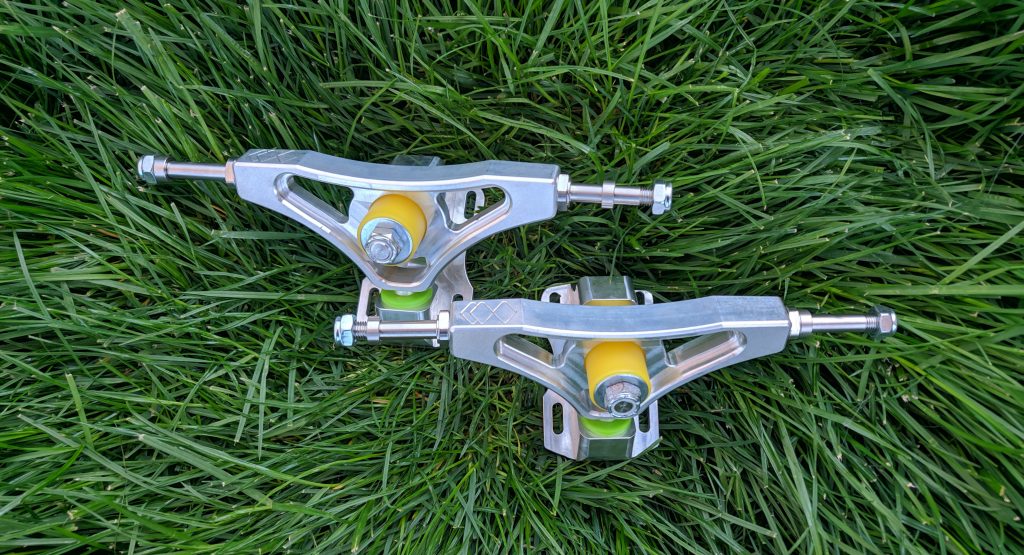 ---
Design
---
You'll quickly notice that the Coo trucks hanger design is reminiscent of Aera's K4 hangers. The Coo arch is less pronounced than Aera but it does provide some functional ground clearance. The hangers are also more square compared to Aera's rounded edges, but this is just personal preference.

Coo Trucks are CNC machined – the market standard in precision truck manufacturing. While you might expect a less expensive truck to fall short in the machining, the milling is just as good as you'd find on any other precision truck in the market: smooth surfaces without any burs or abrasions. The bushing seat, kingpin hole, pivot and hangers are all produced with care.
Purchase Coo Trucks From Our Store!
The main features of the Coo trucks are the K5 pivot, Riptide K5 pivot cup, 0° rake, tall bushings and slightly deeper 1″ bushing seat (compared to the K5's).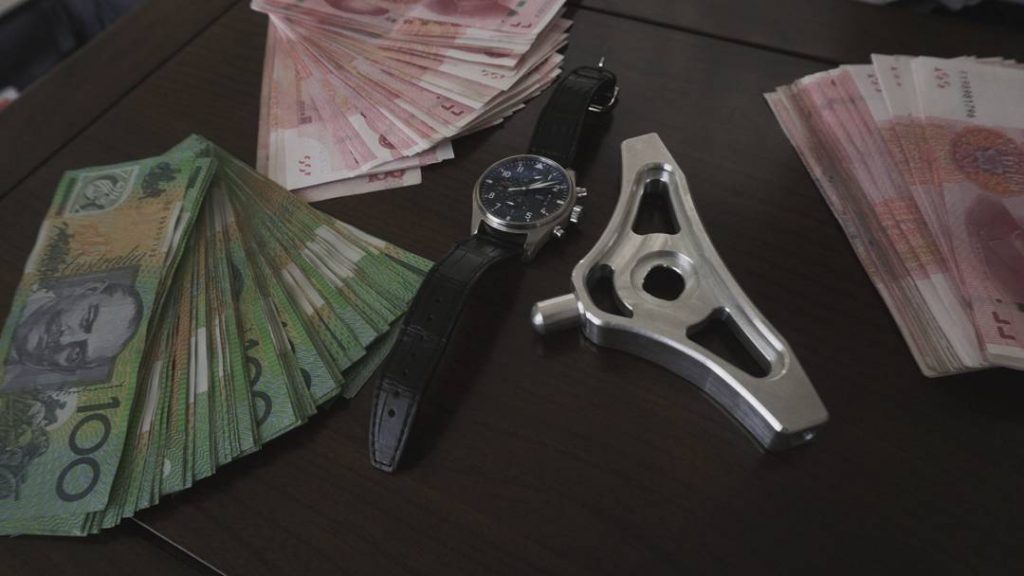 From a design point, the Coo trucks are as close as you can get to a tall, rakeless K5 truck. This makes them an attractive option for anyone searching for a design with 0° of rake.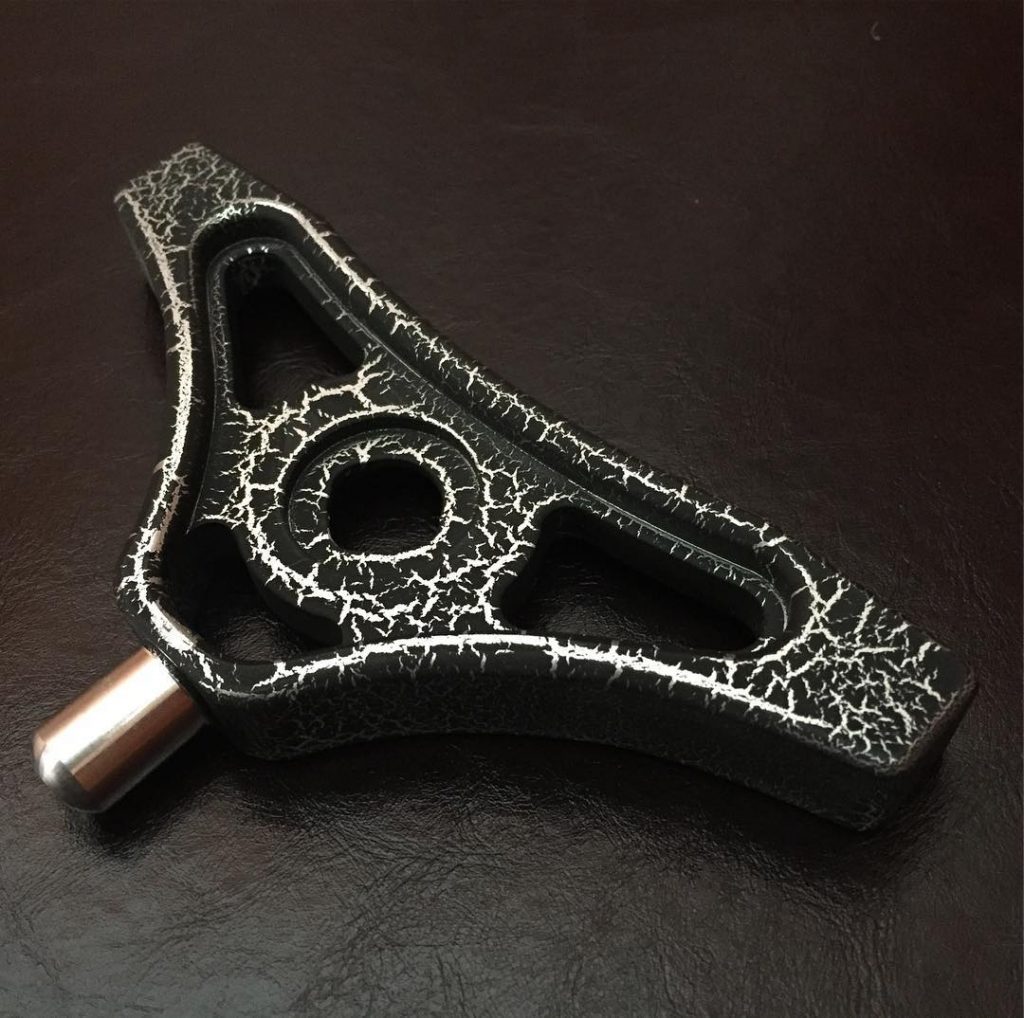 Why would you want a rakeless truck? Rakeless trucks have a linear relationship between turn and lean. For each unit of input as lean, you get an equal unit of output as turn.
Compared to a truck with rake, which has a progressive relationship between turn and lean – the hanger will turn faster as you get deeper into your lean.
The rakeless design, K5 sized pivots and tall bushings combine to make a much deeper lean than other trucks.
The Coo Trucks come with two hanger options 160/150mm or 178mm which gives you options for both freeride and downhill. With 3 baseplate options at 48°, 45° and 30° you can set up your trucks for any discipline. For this review I've been riding the 160/150mm with 45/45°. We have a small number of 178mm and 45° available for sale in our store with more on the way.
Purchase Coo Trucks From Our Store!
Downhill
---
These trucks feel so natural at speed. They're immediately more comfortable downhill thanks to the tall bushings and rakeless design. Remember, rakeless has a linear relationship between lean and turn. Coo Trucks will be consistent and stable throughout the lean.
Looking for more info on the best trucks for your riding style? Read our guide, it's updated for 2020.
The relatively deep bushing seat also allows you to run softer bushings. Softer bushings provide a better downhill experience in my opinion. Soft bushings are easier to compress and so they require less input to turn. On a rakeless truck, this allows for greater range of motion in your lean while still offering the support and stability you'll need.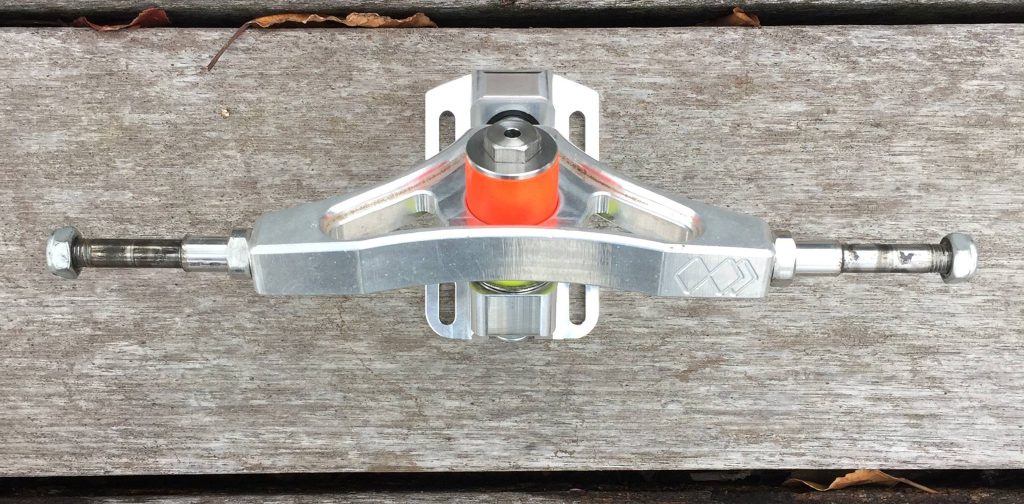 I had my hangers setup to 160mm for the review and even with the 45/45° baseplates I had no problem pushing my limits and sending it on tight runs. The 160mm gave me enough grip, but if I needed a little more I could easily switch to the 150's by moving the spacer.
The 0° isn't without consequences though – to some extent they're going to feel dead. However, when pushing them they somehow felt surfy and controllable.
I thoroughly enjoyed my time on the trucks. I was pushing faster and harder each run. That being said, there were times where I missed the dive of trucks with a little rake when hitting corners.
Purchase Coo Trucks From Our Store!
Freeride
---
Freeriding on rakeless trucks has it's advantages. The linear turning means you get a consistent amount of turn to lean. A raked truck tends to dive towards the end of the lean and when you're cranking out a standie, you might get a little more turn than you bargained for. Not a problem on Coo Trucks.
Pushing slides at 10, 20 or even 30mph has the same breaking point for every slide. This will boost confidence in your setup and improve progression.
I left the trucks in their 160mm configuration for the freeride portion of the review and I was equally happy with them as in the downhill portion.
Combine the Coos with some appropriate wheels like the Slide Perfect Supremacy or Powell Peralta Snakes and you'll have the perfect combination of grip and slip to make freeride as fun as possible.
I'd highly recommend the Coos because they allow you grow exponentially.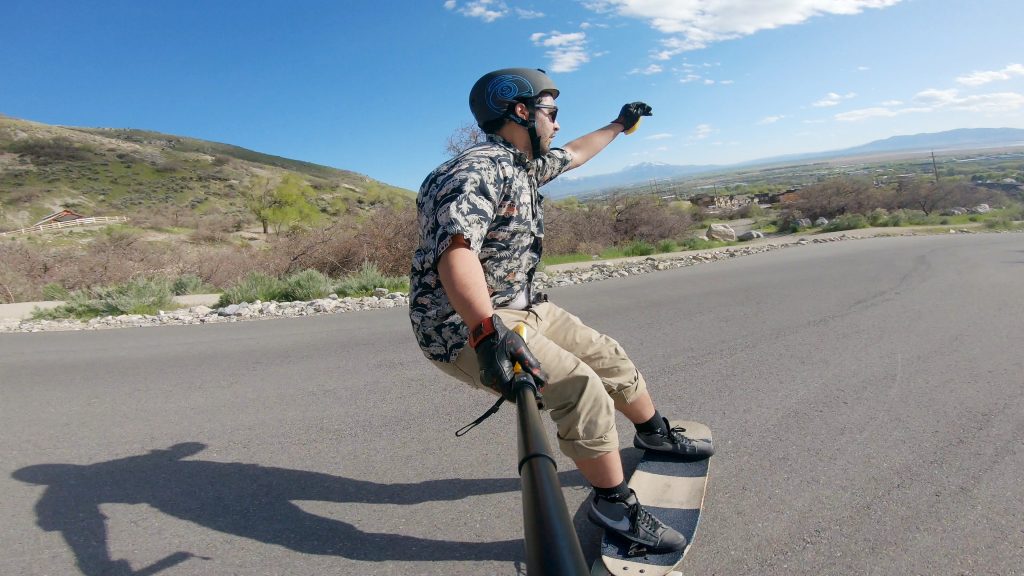 Purchase Coo Trucks From Our Store!
Conclusion
---
Coo trucks are great, low-cost and rakeless precision trucks. They aggregate some of the best designs in the game like the K5 pivot, a well-defined 1″ bushing seat, selectable widths and attractive design.
I think if you already like rakeless trucks like Calibers or Bear Kodiaks these are a worthy upgrade!
---
Pros: 0° rake provides a linear turn, Affordable, Excellent design choices
Cons: 0° rake may feel dead to some
---
| Specifications | |
| --- | --- |
| Hanger | 150/160 or 178mm |
| Baseplates | 48° 45° 30° |
| Construction | CNCed |
| Rake | Rakeless |
| Bushing Size | Tall |
Want more like this review of Next Trucks? Sign up below!
Processing…
Success! You're on the list.
Whoops! There was an error and we couldn't process your subscription. Please reload the page and try again.