Arsenal Trucks are a solid, tall-bushing option intended for both downhill and freeride that won't break the bank. They also work well in other disciplines as you'll learn here!
Arsenal trucks are the first tall-bushing truck I've ridden and the first that measure less than 180mm.
I had a few issues with stability and kingpin drag in the beginning but it didn't last long. Once I got the setup dialed, stability was not longer an issue – instead I was rewarded with smooth, deep turns at slow speeds and fast free ride!
---
Design
Arsenal trucks have a style and design that is uniquely their own. They're sturdy and it shows. The powder-coating is clean and the color ways are crisp. The pattern of the hanger and the lines of the baseplate are a pleasure on the eyes. But the beauty goes beyond the appearance. They're functional as well.
They have eight baseplate holes for a little flexibility in mounting options and their beefy hangars are designed to take many years of abuse from downhill skateboarding.
The hanger is flippable with a bushing seat that is designed to maximize bushing contact.
The trucks are gravity cast and heat treated and the whole package features geometry that is identical to their precision counterpart at a fraction of the cost.
Arsenal Trucks Bushing Seat
These trucks take tall bushings and are meant to be run without a washer boardside. The bushing seats themselves fit Riptide and Venom tall barrel bushings snugly. This tight fit gives a sense of precision when leaning into turns and a return to center that is really pleasant.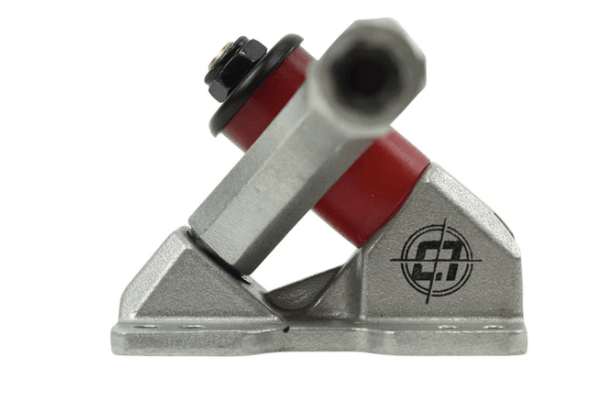 What are the benefits of a tall bushing truck?
The LEAN! With tall bushing trucks, you get an unparalleled level of lean for cornering and the trucks feel very responsive under foot. Due to this extra range of motion and response, tall bushing trucks are often used for downhill skateboarding.
I'm not a downhill skater so I can't speak to how they handle at speeds over 30 miles per hour, but for speeds up to 30, they felt fantastic after I got them dialed in.
This is great news for those of us who aren't necessarily looking to go fast but are still looking for a quality product. Likewise, it's great for the downhill and free ride crowds as well – there's plenty of room for quality products!
My Setup
With the 165mm hangers and Orangatang Skiffs, the setup rail matched perfectly with my Rayne Homewrecker. The Skiffs measured 62mm tall in 86a durometer.
The fact that I'm not an experienced downhill skateboarder heavily influenced how I set these trucks up. The included bushings felt very soft and I immediately got wheel bite when I tried to turn on my deck. My small riser and lack of wheel wells likely didn't help but I was running smaller diameter wheels.
The included bushings are more suited to a downhill or freeride discipline than my use case. I quickly swapped them out and moved onto the next setup.
Eventually I settled on a 90a Riptide APS tall barrel busing boardside and an 86a Venom SHR tall barrel bushing roadside. With these bushings they felt very nice for cruising and carving at low speeds. When I took them to my local freeride hill, I got wobbles at around 20 mph.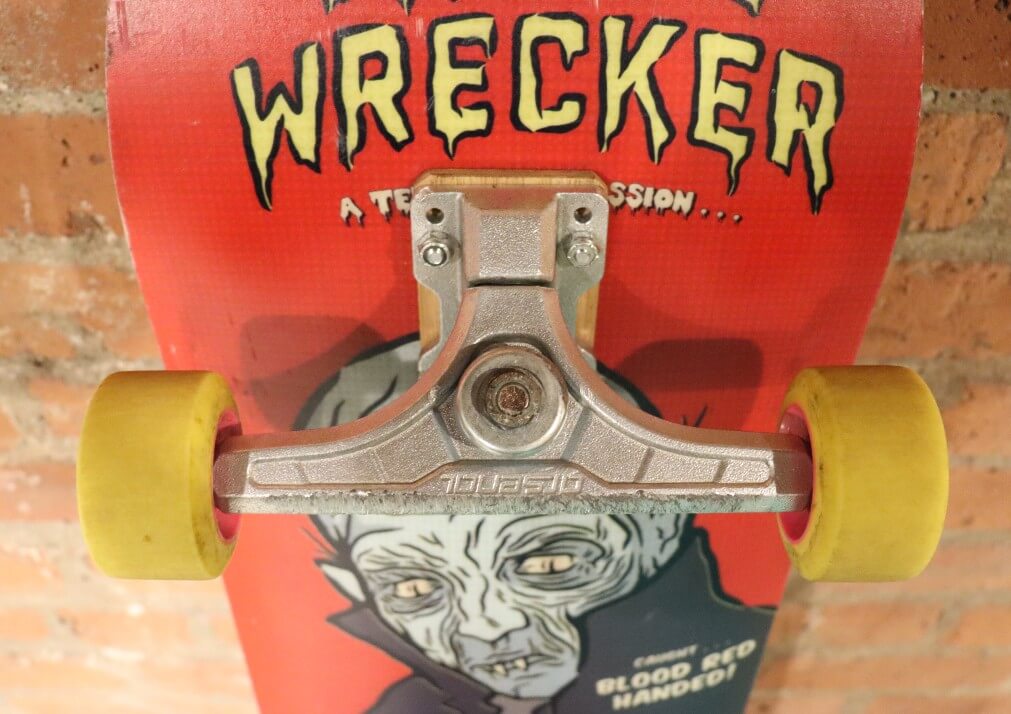 I didn't want to go out and buy harder bushings or experiment with shaped bushings for the boardside so I decided to try adding a cupped washer boardside. This made ALL the difference!
I know it's not how these trucks were meant to run but boy did that tiny (and low cost) change make them ideal for my preferences! It took away some of the deepness of the lean but that fixed wheel bite issues and speed wobbles. With the washer added, I was able to take them to over 30mph confidently.
Freeride and Tech Slide
Once I got the trucks dialed in, they were a blast for freeride! I felt very stable while riding and didn't get any speed wobbles up to 30 mph. At higher speeds, they felt more responsive which made them even more fun to ride.
These trucks also like to slide – I was able to kick out slides at speeds ranging from 10 to 25 miles per hour. I thought the width may have affected stability while sliding but I was pleasantly surprised. I could also hold glove-down and stand-up slides just like I can on 180mm trucks and they both felt great.
Cast Arseal trucks can handle more technical slides like stand-up and glove-down 360s, slide shuvits and no comply slides. When performing these types of slides, they feel natural, not like a truck that's only meant for going downhill fast.
Kingpin Drag
Kingpin drag was a bit of an issue for me while I was testing these trucks. I honestly didn't even really know what kingpin drag was until it happened. It happens when your kingpins or axle-nuts drag on the ground when you're skating due to the small size of your wheels. This is an issue with most tall bushing trucks, not just Cast Arsenals, but I'd still like to make note of it. It's also more likely to happen on uneven or chunky pavement.
When I got kingpin drag I was skating nearly cored Free Wheel Co Free Dumbs and attempting glove down bluntslides. Fresh or slightly larger wheels may not have had the same issue.
The kingpins ride pretty close to the ground and they get even closer when you pop the board's tail up. I noticed the axle-nut would knick the surface of what I was ollying off of if I popped the trick a little late.
Not one to accept defeat, I slapped some fresh 62mm wheels on the setup and sent it. The slight diameter change from worn to fresh wheels was all it took – I was able to throw my usual repertoire of tail dragging and grind tricks. It was proof that you can still skate smaller wheels on tall trucks without kingpin drag.
I even did some grinds on the trucks which is 100% not what they are intended for but they still held up great! There was just some wear on the kingpin nuts but the kingpins and hangars themselves are holding up nicely.
Conclusion
Cast Arsenal trucks are a great truck for freeride and I'd imagine they would also be fantastic for downhill given their increased, precise response due to the tall bushings and tight bushing seat.
These trucks would be best for a free or downhill rider – who knows which bushings and bushing shapes they like – to take down complex runs with multiple turns to get the maximum response.
The Cast Arsenals wouldn't be ideal for a tech slider or a freeride rider who does lots of bluntslide type tricks or a rider who cores wheels often because of the kingpin drag issues. But that's not stopping any of us!
Overall, the Cast Arsenal trucks are strong tall bushing trucks that are fun to ride once you get them dialed in to your liking!
---
Pros: Increased response due to the tall bushings and tight bushing seats
Cons: Kingpin drag and can take some time and money to dial in right
---