Rayne's Skyline deck has turned out to be an absolute banger this year. It may seem like a while since Rayne last released a new deck but it was more than worth it!
We all love the multi-discipline mantra – one board that excels in multiple disciplines. It's an especially appreciated feature for those of us with budget and/or space constraints. One deck for a ride to a friends house, to the local convenience store, to the top of the hill and then the same for a run to the bottom.
In practice, it usually leaves a bit to be desired in one area or another. To be fair, it's a lofty goal. Things that make a board excel in one discipline usually don't help in another.
Turns out there is a gray area – a "just right" middle ground where a boards features compliment each other in a variety of disciplines. The Skyline falls squarely in this area.
---
Skyline Construction
The Skyline features Rayne's classic bamboo fiberglass construction, this construction helps create an incredibly stiff board in all directions.
Even for myself as a heavier rider at 185 lbs, I couldn't really get the board to flex enough to matter. The bamboo fiberglass layup also gives the deck a good amount of pop making the tail very functional.
The Skyline also features flush mounts which help you keep your trucks at their true angle and deep wheel wells to help prevent any wheel bite.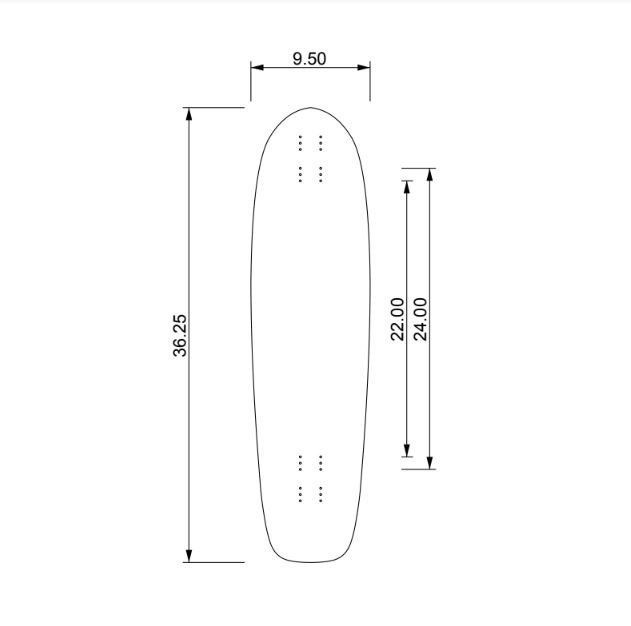 One thing I do want to mention is the actual size of the Skyline.
Rayne's dimension graphic, shown at the right, lists the width as 9.5″. While this is true, it's only the case for the widest point of the deck, near the center.
The deck features a pretty significant taper as it get's closer to the rear.
I road the deck at the longest wheelbase option, approximately 24″. With the deck in this configuration, the width of the board at the mounting holes was 8.5″ in the front and 8.3″ in the rear.
This is a pretty big departure from the listed 9.5″ width but doesn't necessarily present a problem. In some cases, we can see riders finding this trait more desirable. You can easily expect to rail-match narrow hangers. On the other hand, riders with larger feet will have less area on the standing platform on the areas where they position their shoes.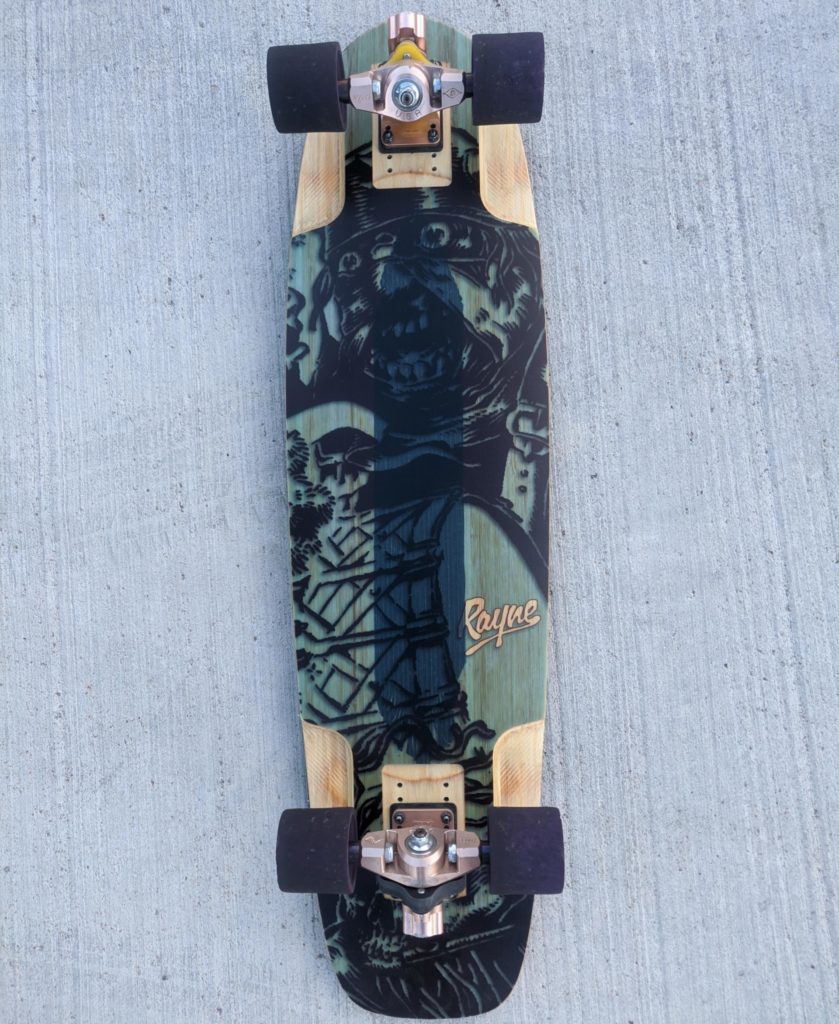 I was riding 150mm hangers and Remember Hoots with good rail match.
So one thing to keep in mind with the Skyline is the dramatic taper really makes the width of the deck much smaller where you stand. For people who ride smaller hangers or are just smaller riders may love this heavy tapered design.
---
Skyline Concave
Some people may think of aggressive concave when it comes to Rayne and that's an understandable assumption. Previously, their boards have featured aggresive, lock-you-in concave. Examples include the current Genesis or the older and venerable Hellcat or MisFortune.
With those examples in mind, the Skyline has one of the more mellow concave layouts I've skated recently. It has very small micro drops and some rocker – that's about it.
Microdrop is really an underappreciated feature. However small, the slight depression in the standing platform lowers the rider's center of gravity.
It also gives the rider reference points to use as a tool for intuitive foot positioning on the standing platform. You'll be able to feel if you're feet are are in their normal riding position without having to look. It's a small but appreciated feature.
Here are some example shots of the concave in various positions of the board:
I personally have been skating decks with very mellow concave for the last two years. I've grown to appreciate them more because they offer additional area on the standing platform compared to their more aggressive counterparts. This results in a better interface between the board and my feet and by extension, provides more control when I really need it.
While riding the Skyline I never felt lost due to the micro drops and they kept me locked in with a little support of a small foot stop up front.
Funny enough, during the second session on my Skyline I broke my foot stop off and didn't have a spare, so I skated the entire session without a foot stop for the first time in years.
The micro drops were enough to keep me locked in for the day, watch the clip below to see that session!
Overall, I'm very pleased with the concave of the Skyline.
---
Skyline Skate Experience
The Skyline is the smallest board I've skated in a long time. My daily prior to this review was a 9.5″ wide deck with a 25″ wheelbase. I spent the entire first session on the Skyline adjusting to the smaller size so I wasn't really pushing it.
On the second session, I opened it up. I started to go a lot harder, putting it through a bunch of different runs, testing on both good and bad pavement.
The Skyline kept me locked in. I began to push better lines thanks to the extra control I was getting from such a small deck. Since the width was so small I could put my toe and heel on both rails – the extra leverage allowed me to take more aggressive lines.
I found the concave to be perfect for those who want just enough to know where you are and that is about it.
It really did its job while I was skating, I never had to look at my feet because the micro drops kept my stance consistent and were the prefect reference point. The super sharp rails made digging into the board for pre-drifts a breeze.
The kick tail was a lot of fun also. Playing around at the top of the hill with a tail is a blast and kept me entertained while preparing for the next run. When my friends and I would go into town, the small wheelbase and kick tail made navigating downtown super easy.
Lastly, this deck was built for going fast and gripping hard lines. I did a couple all grip runs with 139mm hangers and Seismic Alphas on the 22in wheel base. It was an absolute blast to comfortably grip lines on a truly small setup. Rayne nailed it!
---
Review Conclusion
The Skyline makes a great do-it-all board. You can set it up to make it a fun city slasher, a slidy freeride board or a small all-grip board and that is what I like about it.
I think people looking for their next small board to fit those less-than-160mm hangers or even a smaller rider looking for their first downhill deck would really benefit from grabbing the Skyline.
---
Pros: Mellow concave, good reference points, very light, super stiff construction, graphic is protected under the epoxy, poppable kick tail, deep wheel wells, proper flush mounts
Cons: Rather expensive for its construction (compared to the rest of the Rayne lineup), might be too mellow or small for some riders
---
Where to buy?
The Skyline is available now from Rayne.com.
Purchase the Skyline at Rayne.com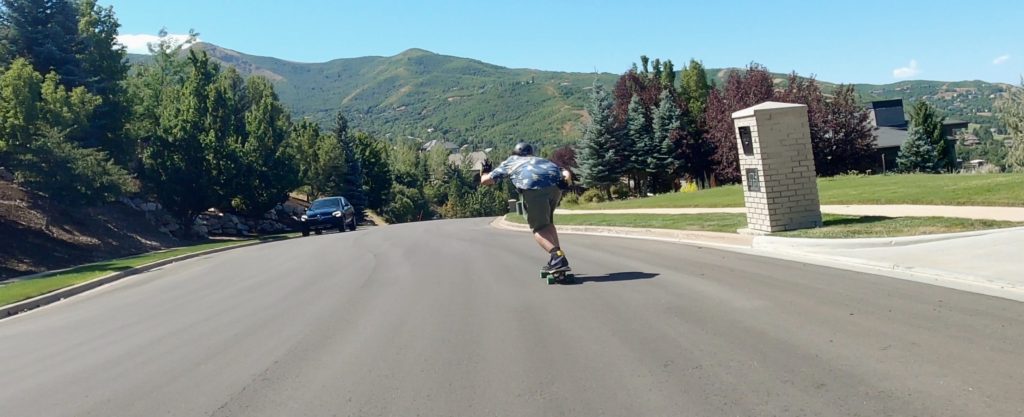 Specs
Setup
Length
36.25″
Wheels
Remember Hoots 76a
Width
9.5″
Trucks
2020 Rojas 150mm 46/30
Wheelbase
22 – 24″
Wheelbase
24″
Standing platform
22″ between
the micro drops
Griptape
Seismic Lokton
Concave
Micro drops,
Rocker
Bearings
Zealous Bearings
Features
CNC'd flush mounts, wheel wells