The Rum Runner has been a staple in the Moonshine lineup for quite a while. The wheelbase options, waterproofing, urethane rails and lightweight construction add to a functional shape to produce a product that is tough to match.
The Rum Runner name is reminiscent of prohibition era booze smugglers. They needed to get their cargo to it's destination, fast. Moonshine's Rum Runner only has one difference – the cargo is you.
Freeride or downhill, this board is well suited to the task. Even a little slashing if you move the trucks in far enough.
It's available in both composite and standard constructions. In this review, we'll be going over the standard construction – The standard! Read on to hear our thoughts and find a coupon to purchase your own at the end of the article!
---
First Impressions
The first thing you'll notice is how big the deck looks. At 10″ wide, it flys in the face of the latest short and skinny trend we're seeing in the downhill scene. On the other hand, it fits in rather well in the freeride discipline where the extra leverage comes in handy for getting sideways.
The second thing you'll notice is how light it is for such a big deck. It can't be understated, Moonshine did a great job keeping the weight low while still packing in all of the features and good looks.
Specifications
The Rum Runner comes from the factory with the following measurements:
| | |
| --- | --- |
| | Moonshine Rum Runner |
| Length | 35″ or 89cm |
| Width | 10″ or 25.4cm |
| Wheelbase | 23.5″/59.7cm, 24.25″/61.6cm, 25″/63.5cm, 25.75″/65.4cm, 26.5″/67.31cm |
| Construction | Wood core fiberglass or carbon fiber outers |
| Features | Mellow concave, wide platform, microdrop rocker |
| Extras | Precision-machined 60D urethane truck mounts |
---
How does it ride?
Depending on the model, the Rum Runner is wrapped in either fiberglass or carbon fiber and thanks to this, Moonshine was able to keep it light and relatively stiff. I say relatively because if you compare it to thicker downhill/freeride decks, it has a bit of flex.
That said, I haven't really felt the flex while riding. I'm about 160lbs and even up to around 40mph, I felt comfortable and the ride was totally fine. A friend of mine who is heavier than me rides the carbon version and is also not bothered by the flex at the same speed.
Talking about the carbon version, it is indeed stiffer and lighter, but only slightly. Unless you are on the heavier side, I suspect you'll be just fine with the fiberglass version.
---
Features
I have typically avoided decks with "fancy" features like micro-drop and rocker because those tend to make the ride uncomfortable for me. With larger feet (size 11 shoes), I find that the extra features cause some fatigue despite their usefulness. Naturally, I was skeptical about the Rum Runner at first.
Luckily those features feel rather mellow on the Rum Runner. I usually place the ball of my front foot on top of the front truck – I find that the micro-drop makes finding this position more intuitive and within a few sessions I had already adapted. Likewise, the back foot was fine and found its place quickly.
My initial plan for this deck was to make it a relaxed downhill and freeride setup, but out of curiosity I set it up with something a little more aggressive.
I used 148mm Skoa M.Specs (more about those here) and race wheels, just to see what happened.
With Kegels the deck was about half an inch wider than the trucks on each side. It felt pretty good in this configuration but I had to go up a couple of duros in the bushings to compensate for the extra leverage. With Venom Magnums, it rail-matched perfectly which was very visually appealing and the leverage felt just right.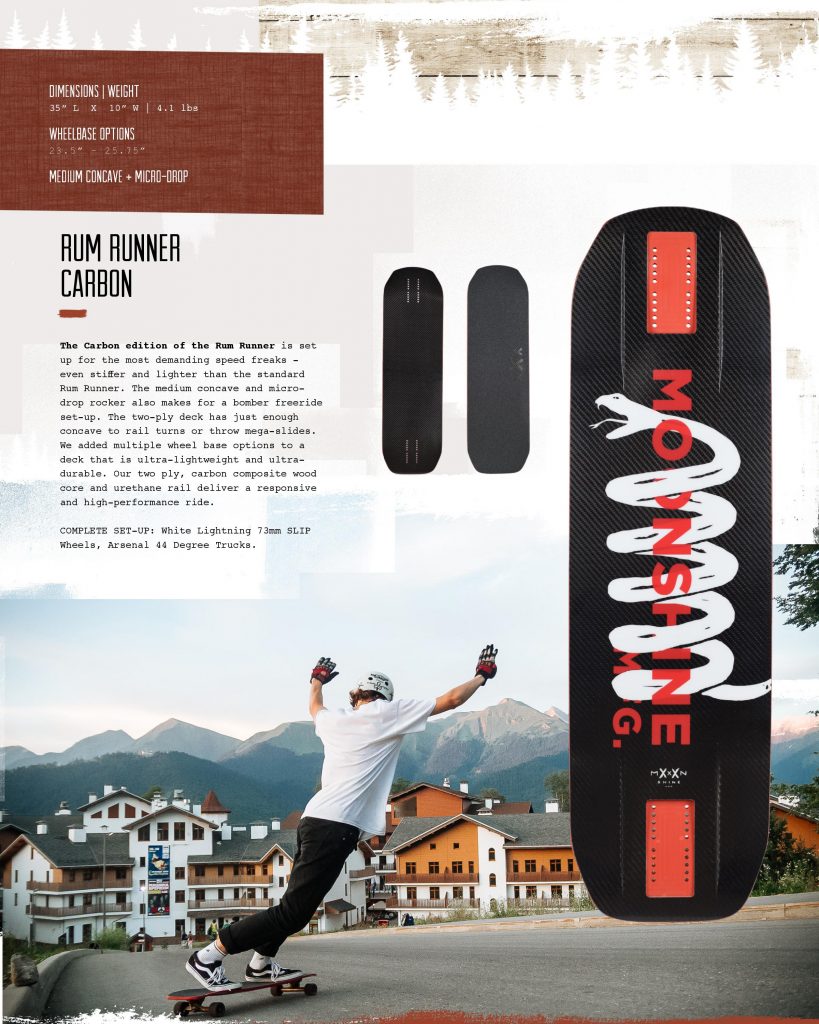 Even though it felt pretty good to ride the Rum Runner with a more aggressive setup, I decided to proceed with my original plan – currently the Rum Runner has 180mm, 50/43 split Paris Savants and whatever freeride wheels are lying around.
As a chill freeride setup, the Rum Runner feels great. It is light enough that I can tolerate carrying it back up the hill but the ride is stable and it's comfortable enough to ride the whole day.
Surprisingly, it also feels quite good to use as a cruiser if need be – even if for that purpose it lacks the practicality of a proper kicktail.
Thanks to the wide and not-too-short standing platform, I can even do some dance steps on it if I feel like. With all this in mind, unless I'm going somewhere that I will be strictly either cruising, dancing or downhilling, this is my go-to setup.
---
Durability
The durability of Moonshine decks are well known in the scene. It's no surprise that they keep the urethane rails and truck mounts. I crashed my Rum Runner head-on into a boulder at roughly 20mph.
The sudden stop and collision threw me over the boulder and broke the 3D printed footstop but the deck only suffered very minor cosmetic damage.
Considering what little damage is evident on the board, I suspect this deck can take a much more significant beating and live to tell the story.
While the deck itself is exceptionally durable, one criticism I have is the stock grip tape. It feels more like a street-skateboard griptape.
For light freeride, the griptape is not terrible but on a handful of occasions my front foot slipped during slides. My advice is to get the deck without griptape (it's mostly sold without it anyway) and apply a more coarse after-market tape.
The wheel wells are quite massive. It is possible to run 70mm+ wheels on it without a riser and not get wheelbite, but you should still check just to be sure. A friend of mine runs Kegels on his and a quarter-inch riser is already enough to avoid wheelbite.
---
Conclusion
Versions of this deck have been around for quite a while and for good reason. It's a solid choice if you want to go for a more relaxed freeride session. It also holds up very well during faster sessions.
It's great for bigger feet due to the width and mellow concave. It's lightweight, durable and waterproof, so you can throw pretty much anything at it and it'll be fine.
I am very satisfied with it, it's the deck I'm using the most lately and if I had to keep just one from my quiver, this would be easily my first choice.
Pros:

* Solid Moonshine construction – durable, lightweight, waterproof, urethane rails and truck mounts.

* Great for bigger feet due to the width and mellow concave
Cons:

* Not ideal for narrow trucks due to the width/extra leverage (can be partially counteracted with harder bushings)

* Very slight flex for heavier riders, even the carbon version (not a big deal though)

* Stock grip tape doesn't grip enough on higher speed slides

* Expensive, especially the carbon version
Use Code ENVY in the Moonshine Store For 10% Off Your Purchase
---
Setup as reviewed