Skoa started in Germany around 2011 with the idea of bringing a 1940's biplane design and functional aerodynamics to a skateboard truck.

The owners' decades of skateboarding experience plus mechanical engineering, CNC machining and design gave birth to a series of trucks like never seen before.
---
One of those was specifically developed to tackle the famous Maryhill Loops road, which requires more grip and quicker turning response than what was available at the time, so with this in mind, the Skoa M.Spec was born.
Specifications
---
They come in 3 width options: 148mm, 154mm and 160mm. As the hangers are all the same width, the difference is in the axles, so it is possible to change the width by changing only the axles.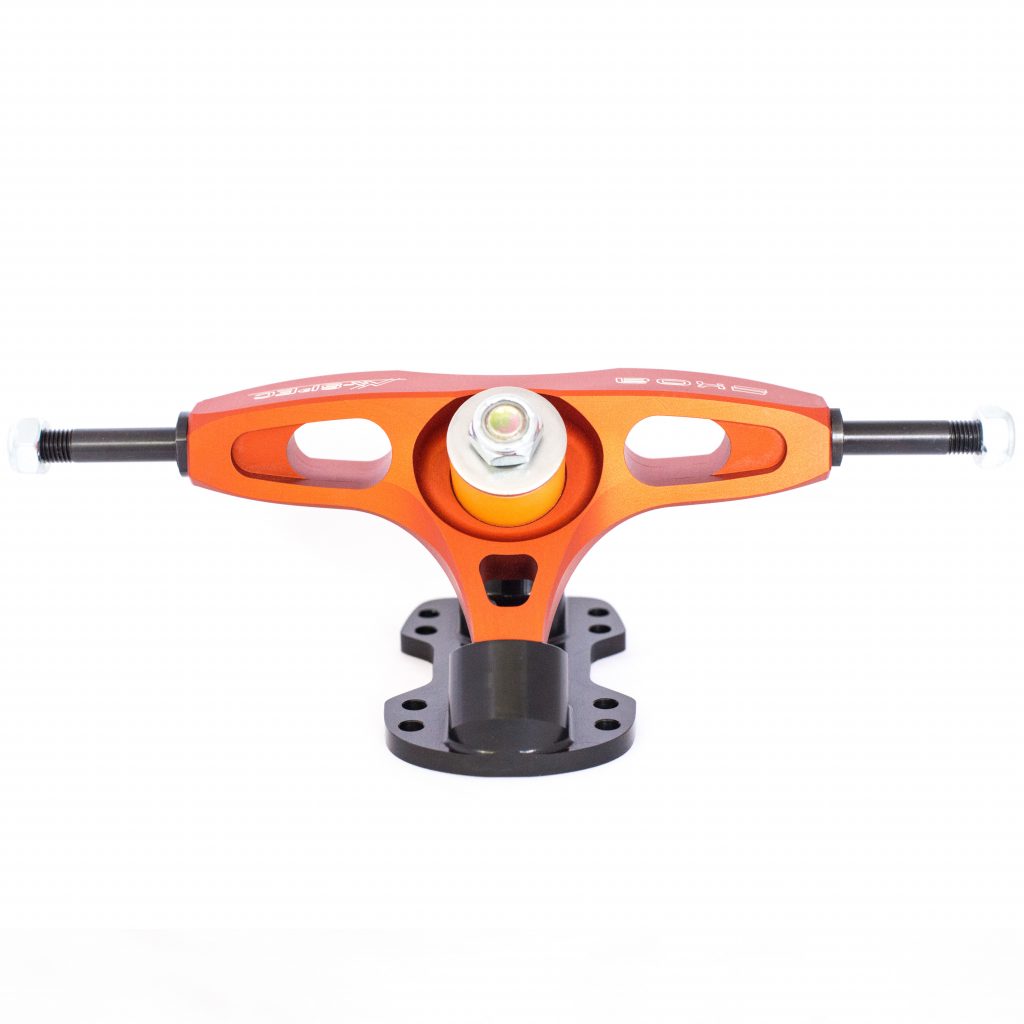 Front truck has 1.5mm positive rake and rear 1.5mm negative rake. The front baseplate is 47° and the rear is 26°, so we're dealing with a heavy split, race oriented truck.
Each set of baseplate, kingpin, kingpin nut, hanger, axles, axle nuts, washer and pivot cup weights only 369g (bushings not included).
In the box:
one precision flat washer per truck (you'll only need one)
Skoa's Eurothane 90a pivot cups
either 90a or 93a tall/regular barrel bushings
Skoa baseplates are interchangeable with all of their hangers so you can also try different hanger/baseplate combinations.
For this review, I'm using the 148mm wide version.
Design / Features
---
First of all, they are eye-candy! Many precision trucks are aesthetically pleasant, but in my opinion these are especially gorgeous.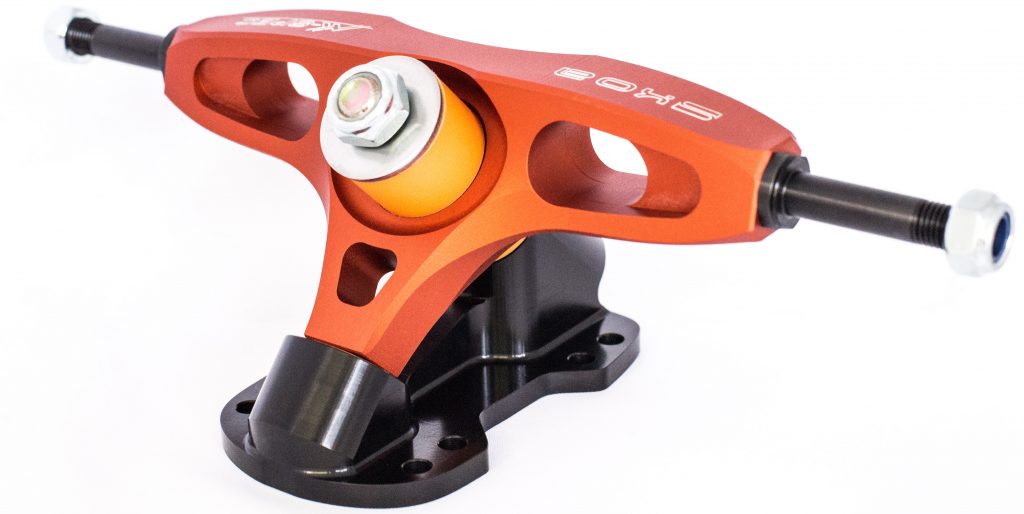 Second feature that catches the eye is the heavy 47/26 angle split between front and back baseplates. This coupled with the +1.5mm rake in the front and -1.5mm rake in the back makes it very directional for turning with the front while also helping in stability.
The axles are also mildly offset in order to be more responsive. The pivot cups are the largest I've seen so far. The size helps to both increase their longevity and greatly helps to dampen vibration. They are also made from high quality urethane and feel almost as good as Riptide pivot cups so you don't need to change them right away.
One feature that I've seen implemented in very few precision trucks, and only recently, is the aerodynamic design. If you have a closer look, when the trucks are mounted to a deck the CNC'ed holes both on front and rear hangers are parallel to the deck and ground, which allows a smoother airflow through the trucks.
It's a small thing and almost imperceptible, unless you are going really fast, which is what you should be doing with these trucks anyway. If you need to decide which trucks are best for you, read our guide to the best longboard trucks. We've updated it for 2020.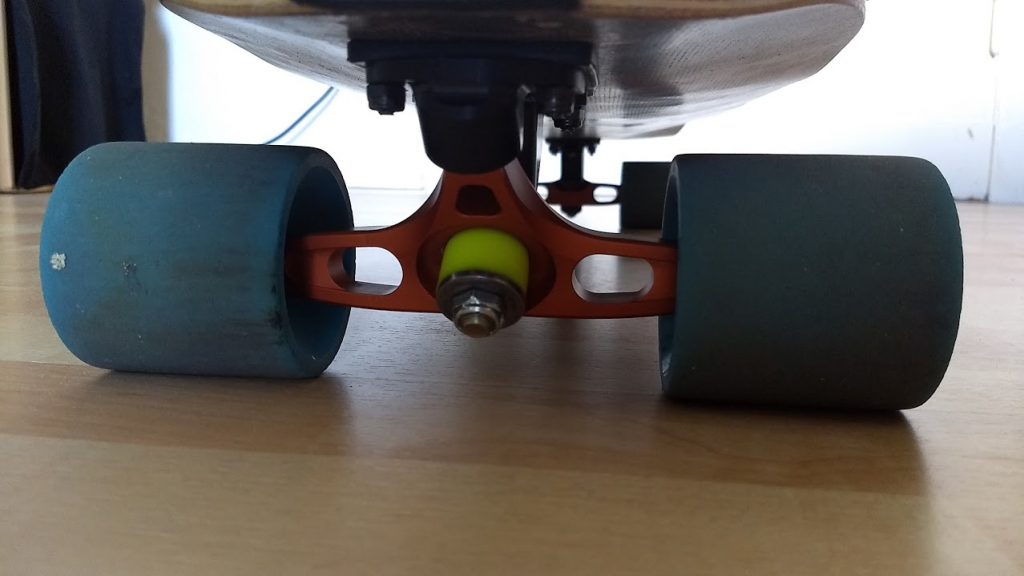 Due to the low rear baseplate angle, there's not much clearance between the kingpin and the ground, so it's better to mount them with 70mm+ wheels. Another option is using a wedged riser to increase the rear baseplate angle and get more clearance, but in this case it won't feel as stable. I suggest choosing your line carefully to avoid obstacles!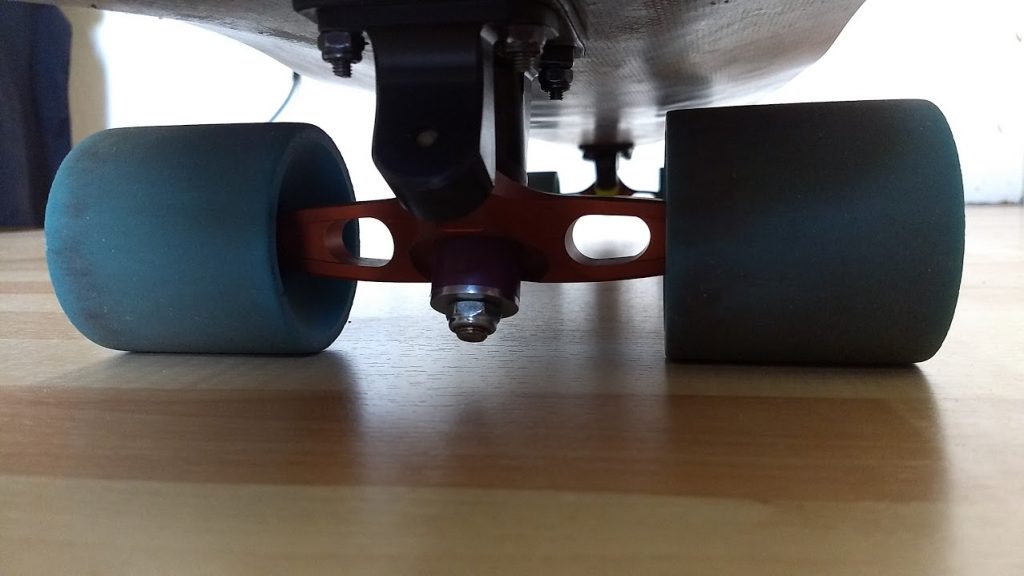 Stock bushings are one tall and one regular barrel per truck, but the kingpin is long enough to use tall barrels both boardside and roadside if you don't use a washer boardside. That being said, unless you want to use cupped washers, a flat washer is not necessary as the baseplate emulates the boardside washer, effectively working as a flat washer.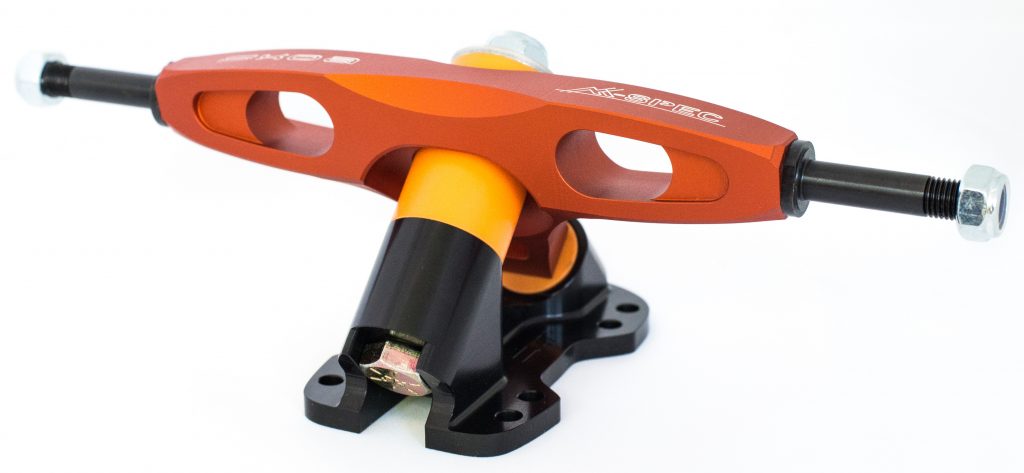 Riding Feel
---
Let's get something out of the way: Skoa M.Spec trucks weren't made to go slow. If you want to just push around town, there are plenty of other options that will make your cruise more fun, but if you're about speed and grip, the M.Spec shine. Let me tell you why –
In the fastest section of one the roads I used to ride, there's a spot of very rough pavement, which in countless runs would always give me a wobble. I run over that hundreds of times and was so used to it that it didn't bother me anymore, but that wobble in the end was a constant.
Then I went there with my brand new Skoas. Taking it easy on the first run to have a feel of the trucks, passed over the sketchy pavement and didn't feel a thing. Ok, that's odd, but maybe because I was going slower than usual. Then I did a few more runs, pushing more and more each time, and those wobbles at the end were gone, I simply didn't feel them anymore.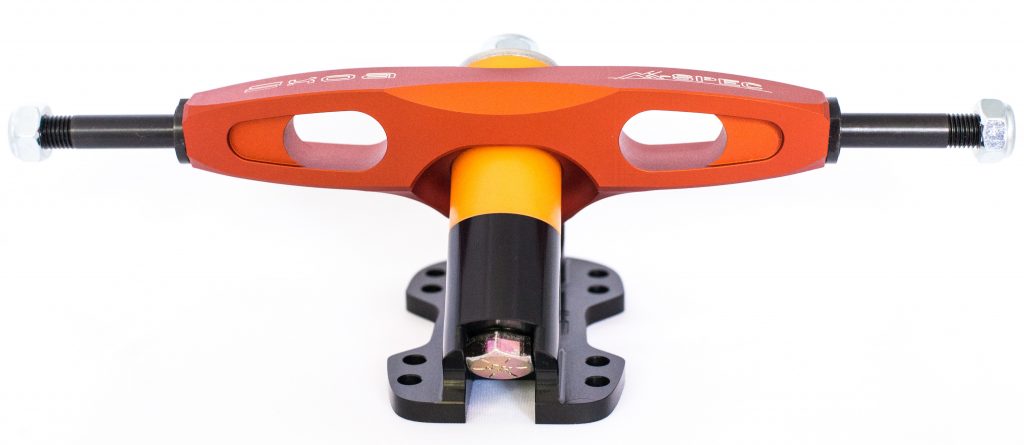 Then I took them to another local spot, a faster one. I rode there a few times with my good old Paris V2, both the 180mm and 150mm hangers. My V2's have modifications: I had upgraded the pivot cups to aftermarket ones and added Riot plugs to reduce slop. Still, on a fast corner, I would end up stretching my arms to the sides for balance. It was alright, but nevertheless sketchy.
Riding there with Skoas was another level of fun. I could exit the hairpin in the beginning faster because I didn't need to slide as much. Likewise, in that fast corner I can now keep my arms tucked, which gives me more exit speed. Also a little bump in the straight section isn't something I have to worry about anymore.
Sliding with these is a unique and pleasant experience from the trucks I've tried before. Hands-down slide initiation is effortless and the board smoothly follows where your body is pointing to.
Hookup in the first few runs might feel hard, so watch out and keep a good form, it's not too drastic but does require some getting used to. A few weeks ago I was riding some tight toeside hairpins and on a few runs on the very edge of grip, but only by leaning a bit more I managed to slide just enough to make the corner, it was so smooth I barely noticed when the slide started, but I had full control and got the exact amount of slipping I needed.
On stand-up slides, I have to admit that my game is not good, but I can say that there are plenty of other trucks that will be more fun for that than these. Its partially due to the super low rear truck angle, partially how narrow the hangers are. Maybe the 160mm wide version feels better and if you happen to have another Skoa baseplate that's not so low, give it a try, but these are primarily for hands-down downhill.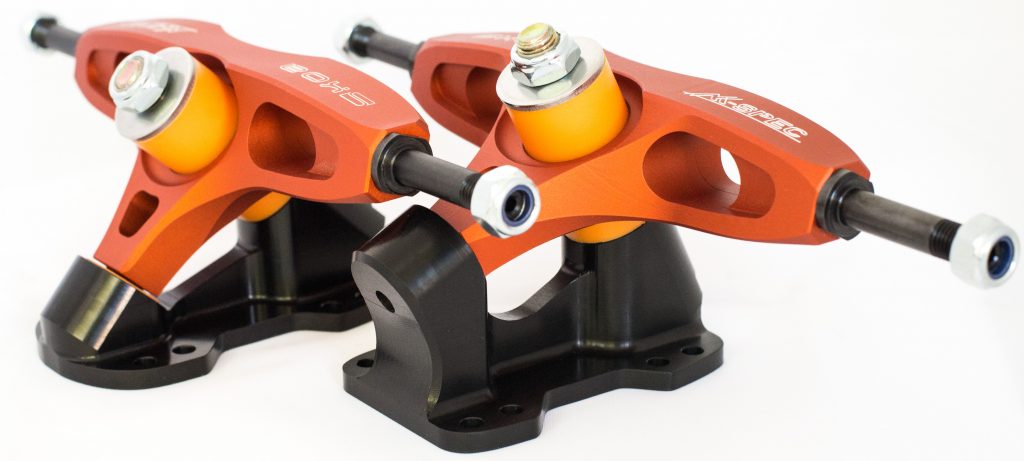 Conclusion
---
The M.Specs look great, sliding and turning is smooth as silk and stability is something you can actually feel. There is a new Skoa truck called Zephyr, which is in fact a further development of the M.Specs, but make no mistake, that doesn't mean the M.Specs have surpassed their lifetime, they are still first-class for today's downhill standards. If you're looking for precision trucks for fast downhill but are not on board of the hype train of crazy narrow 100mm things we've been seeing lately, the Skoa M.Spec trucks still is an excellent choice.

My Review Configurations
---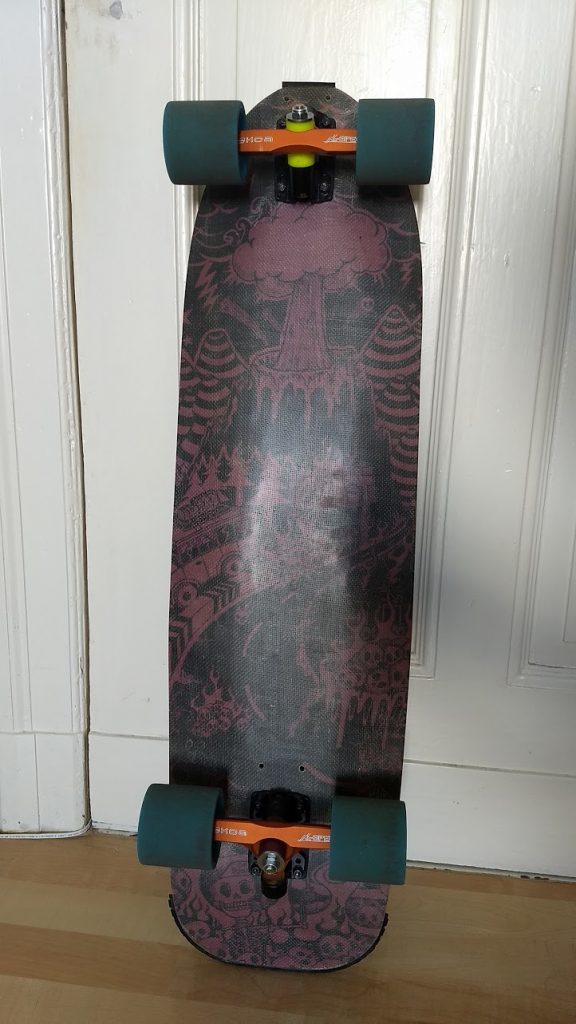 | | |
| --- | --- |
| Decks | TD Longboards Velocity, Coast Longboards Collum |
| Wheels | Orangatang Kegels 83a, Face skate Fast Elephante 79a |
| Trucks | Skoa M.Spec 148mm, Flat washers |
| Wheelbase | 25.5″, 25″ |
| Bushings | Venom HPF Tall Barrel 85a Front, 87a Rear |
| Grip | Vicious |
| Bearings | Zealous |
---
PROS: very stable, light, aerodynamic, large pivot/pivot cup, 3 width options, grippy, interchangeable with other Skoa hangers, high quality manufacturing, great looking design.
CONS: only 47/26 baseplate option, small ground clearance on back truck, not the best for freeride.
---
Watch Skoa's North American media team on a ripper in Vancouver
---
Want more like this review of Skoa Trucks? Sign up below for news, updates and discounts!