Interested in more about Loaded products? We've pulled together our favorites so you can check out their most up-to-date releases and the classic gear that makes them so special. Ok, now let's get to the interview.
Product research and development has usually been a highly secretive thing- companies would produce prototypes within their factories, and only reveal the products to inside members. This is a totally founded strategy- many products, in the early days of the development, are flawed and can tarnish the reputation of a company if revealed to the mass public. Sometimes, prototypes are released to the public in the last few months of development, but this is mostly as a marketing strategy and hype-building exercise. That means that realistically speaking, the consumers don't have a direct influence on an end product.
Many of us dream to partake in this secret research and development that happens behind the scenes at many skateboard companies- I know that when I was a wee little grom, I slobbered at the thought of being let in on company secrets. If only companies would tell us what happens in their secret Area 51 warehouses…
Oh wait, Loaded does. In April of 2016, Loaded launched the Loaded Labs initiative- a program to include riders and consumers in the prototyping process of various Loaded/Orangatang products. This time, it was the Menopause; a modified Orangatang In Heat with a larger, more supportive core. The results of the Loaded Labs Menopause run can be seen here!
The Loaded Labs process is unique- Loaded invests more money into making a higher quantity of stages and prototypes, releasing the prototyped product to a higher audience than would be available if prototypes were given to merely just the team riders at the warehouse. These products are sent out with a survey form, and when a substantial amount of data is collected, Loaded takes it into consideration in order to make a better next batch, and repeat until a new product is created.
Here's an interview we did with Loaded back a few months ago, check it out! Loaded is just as wholesome as they say they are!
LNV: What prompted Loaded to begin the Loaded Labs initiative?
Loaded: Product development at Loaded has always been incredibly exciting for us, and we're constantly exploring ways to share that stoke with the world. Loaded Labs was hatched as a way for us to more actively involve the public in our development process, allowing them to not only see and test product before it's launched but to also have a voice in evaluating a prototype's performance and shaping its design direction in a constructive manner.
LNV: The program has been underway for the better part of 2016 at this point. What kind of feedback and results are you seeing (Feedback on the Program, Rate of Response, etc)?
Loaded: Participation has been phenomenal, and feedback on the program has been overwhelmingly positive. We get a lot of people commenting that they've loved this opportunity because they feel like true and valued contributors to the company. On a more fundamental level, they're just stoked to have the chance to ride new gear that isn't widely available!
LNV: What kind of feedback have you received on the Menopause thus far (How do people like them, what do they say)?
Loaded: So far, most test riders have been very happy with the Menopause. To our surprise, a good majority of testers found the Menopause to be a smoother feeling ride, even with the larger core. You can read a more detailed synopsis of the feedback results here.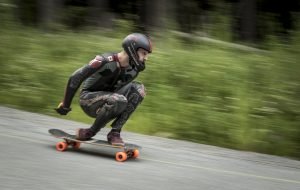 LNV: How does it compare to the feedback of the In Heat?
Loaded: We're hearing many testers describe the Menopause as being faster, grippier, and smoother than the In Heats. But it's definitely not a unanimous consensus; some riders are reporting that the In Heats have the upper hand in many of these performance categories. It's interesting to analyze all of this information and try to determine what's causing these discrepancies; we think a lot of it chalks up to testing conditions (temperature and pavement consistency being two big factors), other testing equipment (decks, trucks, etc.), riding style, rider experience, and much more.
LNV: How will Loaded apply its experience with wheels in the Loaded Labs to Decks?
Loaded: We're hoping to continue expanding Loaded Labs to include many more products in the future. Developing decks is an iterative process that typically involves several rounds of prototypes, so these are likely inclusions. Decks in Loaded Labs will probably be offered in a similar manner to the Menopause where customers will agree to provide feedback from their testing.
LNV: Any tips for readers on what they might see from the lab next? A new deck or wheel?
Loaded: Neither! Think "squish," but not the kind on your kingpin.
LNV: At what point do you plan to incorporate feedback from the Lab and it's products into production runs?
Loaded: We're constantly reading and digesting feedback as it comes in from our testers! Once we've gathered as much data and feedback as possible, we'll distill the most applicable insights into the next steps in development and report on the collective findings.
LNV: Are any proceeds from these sales donated to STOKED.org as with the Carbon Tesseract?
Loaded: Not currently. We are proud to have been able to donate to STOKED with the Carbon Tesseract and hope to be able to do so again, with them and with other awesome organizations. If you've got a charity organization you think we should be supporting, please let us know.
LNV: Do you think it's important as a company to keep the riders meshed in with the research process? How does it improve your side of things?
Loaded: We think that one of the most valuable things a company can offer to the riders is a genuine interest in hearing and implementing feedback. Loaded and Orangatang ambassadors and in-house riders/employees have always been part of that conversation, but opening up the dialogue to include the public is an exciting way to increase transparency and strengthen the development process. The additional feedback is really valuable to us as it helps us understand and critique products from perspectives beyond those of our immediate team.
LNV: Are there any sacrifices that you are making as a company to allow this initiative to happen?
Loaded: We're producing more prototypes for Loaded Labs product than we would normally need to test amongst our in-house crew and ambassadors, but being able to include so many more people in the development process has been worth the expense.
Keep your eyes out for something new from Loaded Labs in the coming months- we've been told some juicy new information.
Processing…
Success! You're on the list.
Whoops! There was an error and we couldn't process your subscription. Please reload the page and try again.