Traveling with skate gear is a chore. There are backpacks designed to strap a single board on, but what about your helmet and spare gear? You can toss it into a duffle, but it better be robust – skate gear takes a toll on storage. Checking it on a plane? No way.
Thankfully, Decent Hardware has come through with their longboard Body Bag, making travel with your board and it's associated gear comfortable and easy.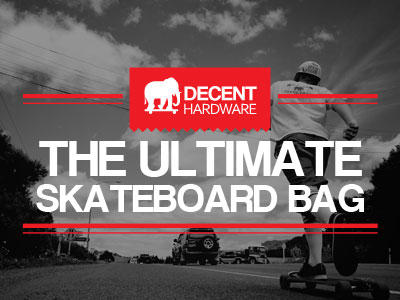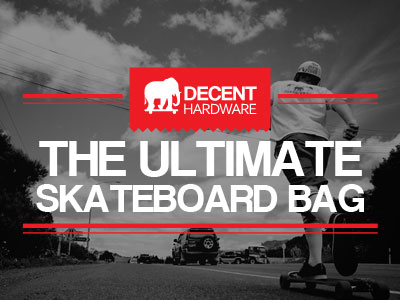 ---
Unless you're riding it, a skateboard is not exactly the most convenient of things to carry around. Be it a small popsicle deck or a 1,5m dancer longboard, they are heavy and clumsy to hold. After all, they were made for riding.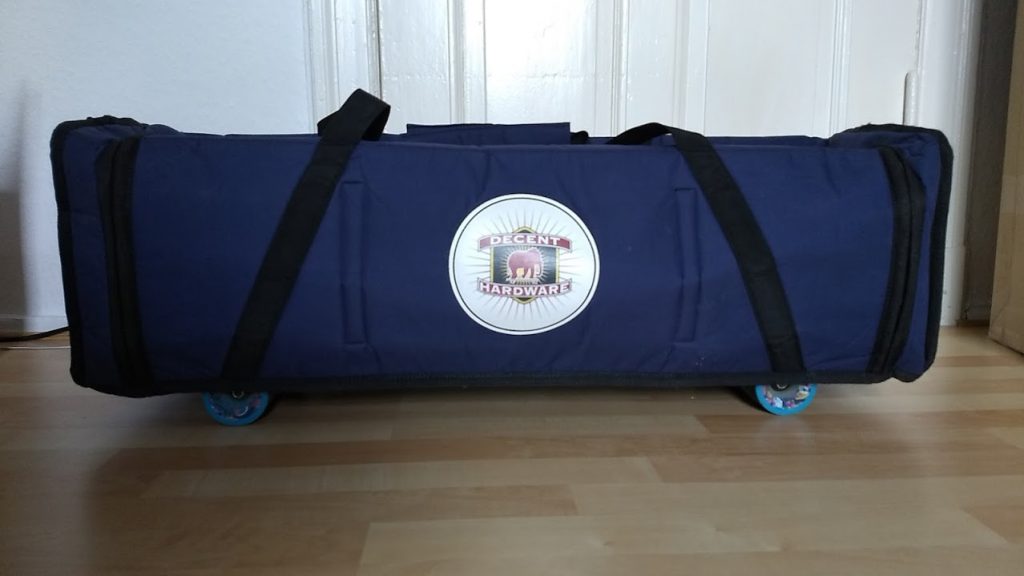 If you then decide to travel with it, you might have a problem in your hands, because unless you have a Penny board, it most likely won't fit in a regular suitcase. So you either throw it in the trunk of a car, the luggage compartment of a bus or take it with you in the train. Doing this though, there's the risk of damaging the board, the compartment it is in or the other things around it, so it's not an ideal situation.
If you're going to take a flight, you might be lucky that the airline will allow it to be taken as hand luggage. I've heard stories of many people doing it successfully without any issues, but some airlines explicitly forbid skateboards in the cabin because of the safety hazard they offer – skateboards can be used as blunt weapons.
In this case, you'll have to check it in and maybe even have to pay an extra checked-in baggage fee. You'll also leave your precious, expensive gear to the mercy of the airport/airline luggage handling, and we all have heard terrible stories of damaged or lost luggage.

To bring a solution to riders who travel frequently and want to avoid those issues, Decent Hardware came up with a line of bags specifically designed for skateboards. There are 4 models: Skate Bag, Park Bag, Hold All and Body Bag, all coming with size and color options. Below I'll talk specifically about the Decent Hardware Body Bag.
Construction & Features
---
The Decent Hardware Body bag comes in 3 sizes: 38", 42" and 44" long with a width and height of 11". The 38" version is within the majority of airlines' checked-in luggage size regulations. I personally have taken a few flights with it and never had an issue checking it in, only a couple of times I was asked what's inside the bag (because it's longer than an usual suitcase) or was asked to take it to the special-sized luggage check-in, which is not at all a problem.
The exterior of the bag is made of heavy-duty, abrasion-resistant rubber-backed D600 Cordura type polyester. Interior lining is made of grip tape resistant Lucky Star PVC impregnated tarpaulin. The bag is padded and there are straps for safely fastening up to 3 decks inside it. There are also 2 removable internal pockets for wheels or whatever else you would like, and another long zippered pocket, this one actually ideal for wheels, specially the bigger ones.
The bag also features an external pocket for documents, removable shoulder strap, padded central carry handle, which can be used as backpack straps and two zipper openings on the bottom, so it is possible to use one of the boards as roller for the bag.
User Experience
---
Whenever I travel, if I know there's a chance for me to have a skate session or even just cruise around, I'll take a board with me. Though, this makes me worry about it getting damaged on the way and/or having to pay a high fee at the airport to check it in as extra luggage.
So I prefer to play it safe, and this bag allows me to do so. The size is within the limits of checked-in luggage for all airlines I had to deal with, it's light enough that I don't have to worry about going over the weight limit for flights and there's enough space for everything I need, being a skate trip or not.
I've used it when traveling on long and short trips by bus, train and airplane, and my stuff has always arrived safely. In fact, once my bag got left behind on a flight and about a week went by until I got it back, and it was looking pretty beaten up, but happily everything inside it was just fine.
It's not without fault though – this is basically a duffel bag, a very high-quality one, make no mistake, but still a duffel bag, which comes with a few setbacks.
Even though it has a padded protection, the bag and whatever is inside it can still be smashed, so I don't trust it to carry more delicate items, like my full face helmet for example as I really don't want to buy a new one because it got broken when my bag was mishandled at the airport.
The second problem is carrying it. If you are going on a trip and can take only one bag, you have to fit everything you need inside it, which will likely make it heavy. Carrying a heavy, bulky bag by hand can become very inconvenient and uncomfortable, and this is unfortunately the case with this one.
The bottom zipper openings are a clever solution, but unfortunately only on paper. To use them as advertised, you have to remove the hangers from the trucks, put the rest of the board inside the bag, pass the baseplates through the openings and reattach the hangers with the wheels from the outside.
And if you have a deck with a longer wheelbase, it will not fit. And if you do it, since the bag doesn't have a rigid structure, the weight of what's inside will deform the bottom and it will be rubbing against the wheels while you pull it.
These shortcomings could be addressed with some thoughtful improvements. A rigid sub-frame inside the bag would provide additional protection for delicate items. It would also provide some support for carrying the bag in a backpack configuration.
Likewise, adding adjustable shoulder straps would make carrying a full-bag for an extended period of time more comfortable. Finally, a system of velcro flaps, when combined with the zippers, would make using the wheels at the base of the bag more convenient. Without having to remove the hangers from the baseplates, you could quickly configure the bag for easy rolling, making the experience that much better!
Pros and Cons
---
Pros: Lightweight, high-quality materials and manufacturing, offers good protection for your stuff, no issues with luggage size when flying (assuming you're using the 38" one), plenty of space for you gear and more.
Cons: Unpractical to carry, be it by the shoulder strap or the central carry handles, bottom zipper openings are not a real solution, not a hard shell bag.
Conclusion
---
The Decent Hardware Body Bag, although far from ideal, it's one of the best solutions I've seen in the market. I've used it several times, taking my boards in cars, buses, trains and airplanes and so far my stuff arrived just fine.
It's made of high quality materials, manufacturing is very good and it provides more than decent protection for your precious gear. I believe that an upgrade in the meaning of a rigid shell and embedded wheels, like in regular suitcases, would make it the definitive solution for longboard traveling and I wouldn't think twice about buying one, but so far this one is doing its job just fine and for now I can live with its flaws.
---
Want more news and updates from Longboard Envy? Sign up below!
Processing…
Success! You're on the list.
Whoops! There was an error and we couldn't process your subscription. Please reload the page and try again.