About a week and a half ago, the folks at Zenit Longboards, based in Montreal sent me a Morning Wood, one of the new double kick offerings in their new 2017 lineup!
Just a note about the whole experience; Zenit was one of the most wholesome companies I've had the pleasure of working with- everything from getting information and pictures for past articles to just chatting and geeking about skateboarding screamed family to me, a dynamic that many companies lack. It was never, "Hey, let me email Phil and ask if we can do this", it was always, "I'm seeing Phil on Friday, I'll chat with him about it then". They all call each other by nicknames and prod each other with jokes all day, it seems. That really impresses me- those who manage to stay friends in the workplace create the greatest businesses, and with that thought, I have no doubt that Zenit will stay wholesome and succeed in the many endeavors that they take in the future. With that said, the product.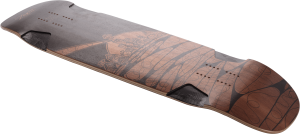 Simply put, the Zenit Morning Wood is a street deck that's be re-thought, re-pondered, and re-engineered to be one hell of a do-it-all board. There are two kinds of quiver-killers in my mind. There are those that are built after a dancer board profile, such as the Zenit Marble 40 or Loaded Tesseract as a more classic example, and those built after a street deck profile, such as the Morning Wood. They're slightly larger and offer larger wheelbases than street decks, and offer variations in flex to accommodate a rider's style. The Morning Wood did so perfectly for me- coming from a street skating background, my style has meshed with downhill and freeride to result in a very street-surfy style, using the environment to my advantage in sliding banks, flipping trucks and hopping over obstacles; things that the Morning Wood is a gift from heaven for.
First, we should talk about the concave- because the first thing you do on a board is stand on it. The Morning Wood has progressive concave, meaning that the concave is steeper at one end of the board than the other due to the width being greater at the front than the back. Traditionally for downhill and freeride boards, the concave is steeper at the back for kicking slides out and whatnot- but Zenit decided to take the reverse approach and put more concave in the front. In the beginning, I couldn't grasp the logic of it- why put concave where you need the least support? However, when I stood on it and cruised around with it for a bit, I understood the concept of it- most of your steering comes from the front foot, and it's hard to keep leverage on both your toes and heels when carving back and forth. The steeper concave in the front allows me to rely less on a misplaced back foot and do most of my steering over the front truck with my front foot. The result is a much less tired ride, more agile carves, and powerful cornering. This concept is inspired from mid-80s ramp/pool decks, where your front feet really don't move while the back foot pivots all over the place depending on trick, rotation and happenstance obstacles.

Second, the shape- it's one of the first things you notice, and it's one of the most important contributing factors to an efficient, responsive board. The Morning Wood is a classic popsicle shape (sized up), with a little bit of taper towards the tail. This works closely in conjunction with the concave to allow the back foot to go from rail to rail more efficiently, making the board incredibly nimble. Moreover, the taper allows the concave in the back to mellow out significantly, creating a better surface to transition your weight on. The board also features asymmetrical kicktails which visually gives the board a more directional feel and look when riding, and the slightly steeper nose kick is useful for skating park, pool and tranny when it comes to really leveling that board out during intense air. The kicks are the perfect steepness- less steep than a conventional skateboard for sure, but that's appropriate for the larger size of the board. The shallowness mediates the amount of rotation you get off of twisting and flicking so that you don't have a hurricane of a board when attempting a shuvit.

Third- the construction, because it constitutes the durability and feel of the board under your feet. Let me tell you about this board- it's dead stiff. There is basically no play in the construction in terms of torsional or lateral flex- that makes the board feel as if my inputs have direct, clear output, which is an overwhelmingly positive feature on a double kick. After 5 days of absolutely shredding this deck, there's only minimal wear in the kicktails- in the first few hours, there was some wear, but after reaching the point that it has, the speed of wear seems to have plateaued.
The kicks have tons of pop- I've had no trouble clearing curbs or obstacles.

Fourth- the auxiliary features. You know, the stuff that Zenit really didn't have to include, but they did, being the wholesome people that they are. The squarish wheel wells are actually some of the most efficient, best looking wells that I've ever seen. Most wheel wells are circular or oblique- this is because of the convenience of lining up a drum sander and going to town with it in a certain place. This sometimes results in a larger-than-required area of non-graphic. The square shape of the wheel well on the Morning Wood removes excess trim and gives you a wheel well just where you need it, no less, no more.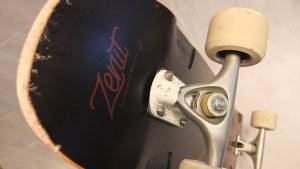 There's also the curious quirk of the rounded popsicle shape- if you flip it, it just rolls instead of skidding and ruining your rails. Makes for a very durable board.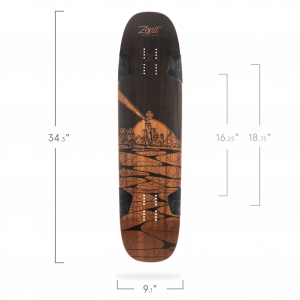 With all these great features put together, Zenit has created one of the best, most versatile do-it-all longboards on the market. After doing some research and talking to the guys at Zenit, I've found that many people have incredibly diverse setups on the Morning Wood.
My personal favorite setup on the Morning Wood so far is Paris 150s (43 degrees, symmetrical), Free Wheel Co. Ballins, with 90a Riptide Bushings all around. I've been using it for commuting to school and cruising around with friends in a variety of situations. It's great for freeride- the small wheelbase makes for some very nimble turning, and it's awesome for kicking out 180s and the occasional 360 if you're feeling ambitious. The smaller wheelbase can be a twitchy at speed, so downhill isn't exactly ideal for the board, but with an asymmetrical truck setup with upwards of a 30 degree split, the board may actually handle some gnarly downhill!
Other people have their Morning Woods set up differently. I've heard of 160mm Kodiaks, 165mm Savants, and one particular setup with Don't Trip Trippins on it. Adam, the board designer and team manager at Zenit, has a street-esque setup on his board, with Independent 169s and Orangatang Skiffs, a slashy, cruisey, carvey hybrid.
All in all, the Morning Wood is one of the best street-inspired DKs that I've ever used. It's replaced my previous board as my daily commuter, and my park DK for street skating. I am thoroughly impressed with the product and can't wait for more developments from the guys over at Zenit Longboards!
Processing…
Success! You're on the list.
Whoops! There was an error and we couldn't process your subscription. Please reload the page and try again.