A few months ago, LongboardEnvy HQ received two sets of wheels from Muirskate- the Markers and the Podiums, which are Muirskate's most recent additions to their lineup of proprietary skate products, alongside their many washers, mini-cruisers, beer koozies and other plentiful accessories. We rode them extensively for an extended period of time- parkades, downhill, drifty downhill, and they were then shared with other members of our local community to get a taste of what they could do.
But first- the whole experience. Muirskate has been one of the leading shops in North America for every skater's various skateboarding needs; they stock street skates, longboards, slalom accessories and various other soft and hard goods that are designed to enrich a skateboarder's enjoyment of the sport. Scott, the owner, has been very cooperative and generous in our dealings with him. Even though the shop has grown exponentially in the last couple of years, the fact that Scott personally responds to all emails convinces us that the vibe at Muirskate is closer to that of a mom and pops' ice cream shop than to that of a large corporation. No wonder they've created such great products. Look at how friendly they look!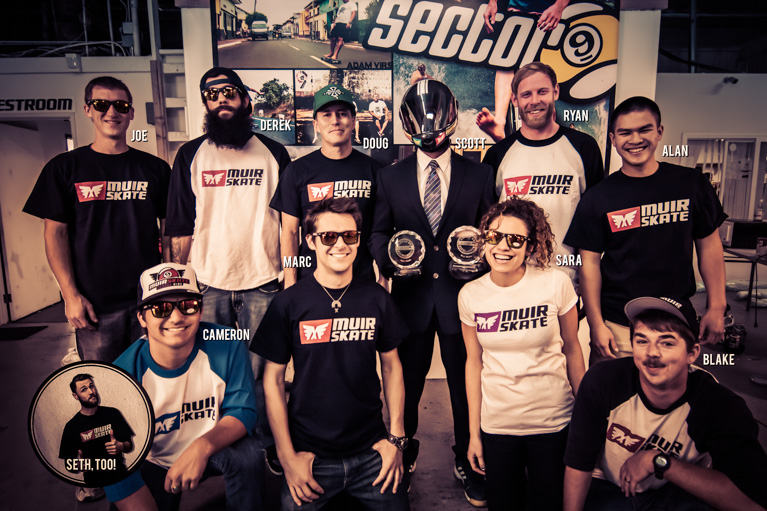 The first product in the spotlight is the Muirskate Marker.
This is the larger freeride offering of the three shop wheels, suited for long sessions on setups that feature a generous amount of wheel clearance. They're made of the same urethane as the mini-markers, as far as we can tell. They feel similar to Zombie Hawgs- they slide well, the hookup is mildly pronounced and the slide is moderately deep in the pavement. There's nothing extreme about this wheel- everything has been engineered in moderation. When sliding at low, 15-20 mph speeds, they feel almost as if they're dragging into the pavement, but at higher speeds above that, they're absolutely prime for long stand-ups and squat drifts. The core seems to be a standard Labeda core, but it is satisfactory in supporting the wheel and we haven't noticed any heavy coning through the life of the wheel. The centerset core ensures that you can flip the wheels to combat any deformation of the wheels during heavy sliding.
I've also noticed that the Muirskate Marker is a great contender as a commuting wheel. The narrow wheel profile fits under most boards without sticking out of the side, and the fast roll speed ensures that the commute to work or school isn't overly tiring. Personally, I use an oversized double kick to get to school, and the round lips have given me the ability to do some mediocre freestyle when I had the inkling to do so. They're a great wheel to throw on a setup if you don't know what you'll be doing that day.
Second, the Muirskate Podiums, which are the downhill, grip wheel offering from Muirskate. These surprised me the most- they reminded me of Phat Deanz! (an older wheel that isn't made anymore, but used to have a cult following.) They were pleasantly grippy and sticky to garage floors and smooth floors, extremely grabby in paved corners, especially. The large contact patch ensures a very solid, enunciated line between grip and slip. This ensures tight, snappy pre-drifts when the skin is fresh, and pronounced but long, speed-killing drifts when the skin is worn off. These are the epitome of finely tuned race wheels, and I can only imagine that they're even better for San Diego-local roads. As the name suggests, both prototypes and production models have been on the podium at major races!
The Podiums are fast. They feel hefty under the feet at the initial push, but the weightiness definitely contributes to how fast they pick up speed and maintain it. I've noticed myself being shot out of parking garage corners than any of my fellow skateboarders on their grip wheels and rolling farther and faster on flats during long pushes.
All in all, Muirskate has emerged with two of the best shop wheels I've skated so far. They're fast, durable and versatile. Get a set now!
Processing…
Success! You're on the list.
Whoops! There was an error and we couldn't process your subscription. Please reload the page and try again.