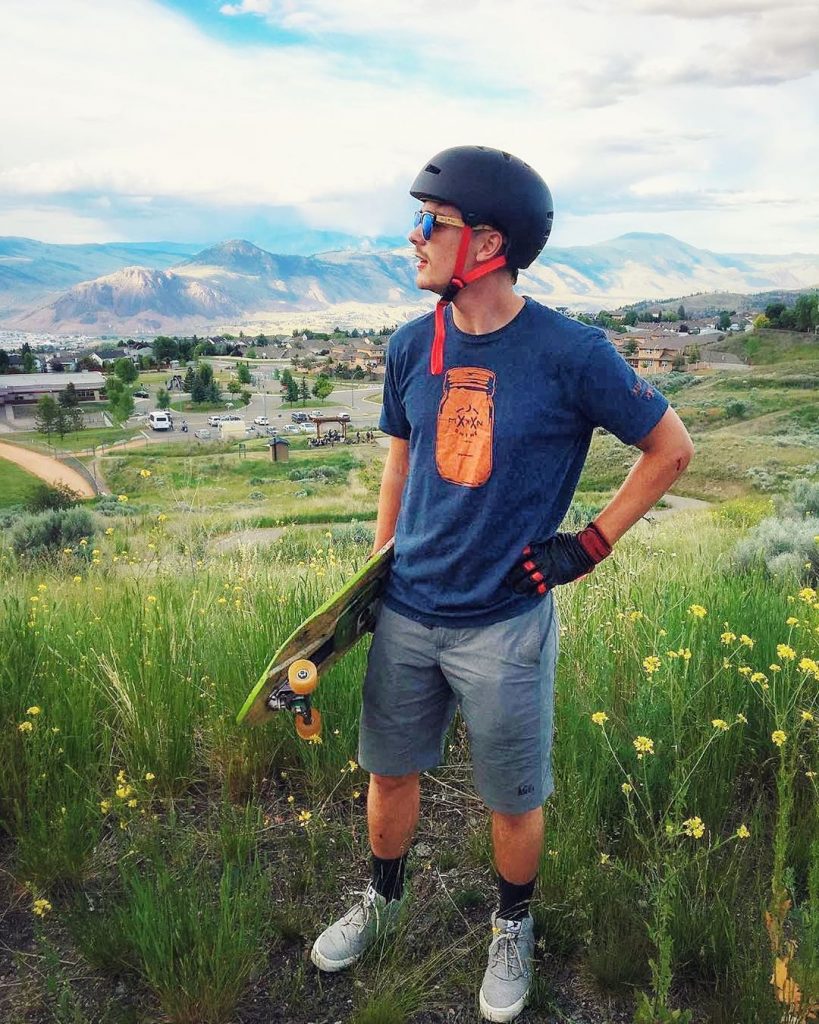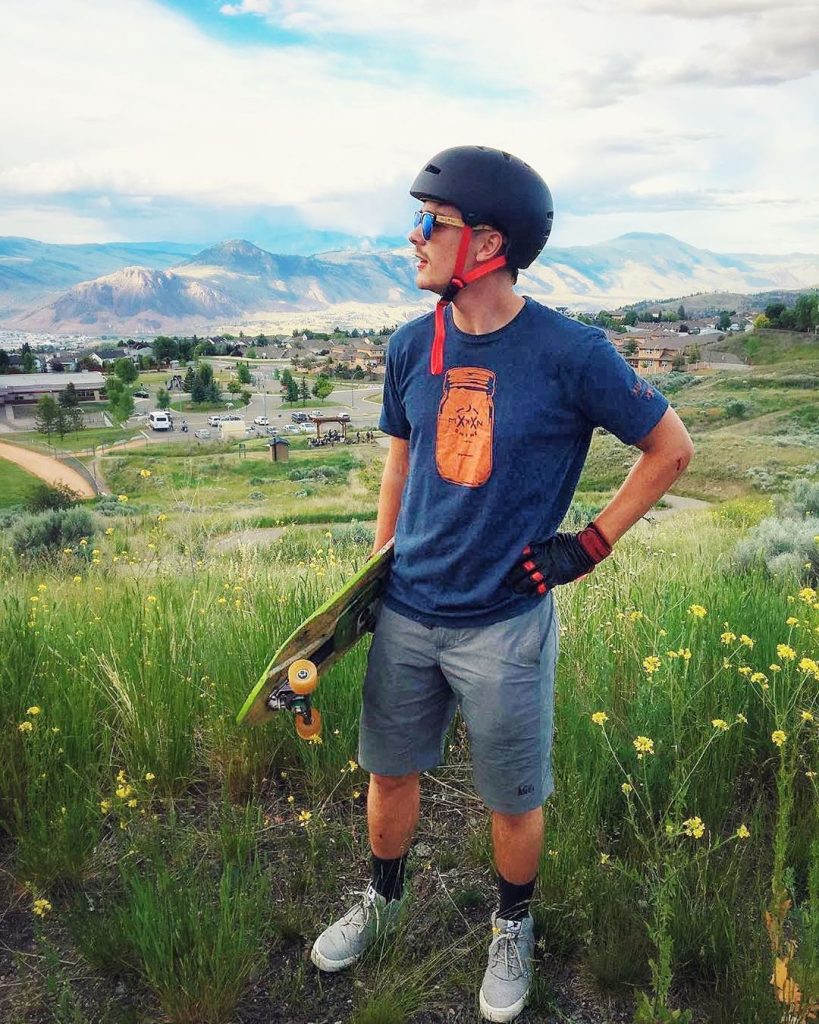 Right now Brandon is overseas in Europe leading camps and aiming for podiums. He is a busy man and we are stoked to finally get sometime to sit down with him and chat about his upcoming board the Proscrito and what has lead up to it. You can also keep up with all of Brandon's adventures on Instagram!
---
How did you get into skating and how would that lead you to working with Moonshine?
I got into skating super randomly. I always had a traditional skateboard around, but who didn't? I learned how to ollie when I was like 10 then shelved it for team sports and Halo.
It wasn't until a buddy in middle school suggested I try longboarding that I really discovered how much I loved board sports. Long story short, I leveraged my love and passion for riding to quickly hone in my abilities and started stepping onto podiums within my first year or so of riding. (chronological stats on my podiums)
After several years of doing my rounds in the PNW longboarding scene I became increasingly eager for more from the sport. More skating, more podiums, more content, more traveling, and more sponsors to make it all happen and fuel my addiction.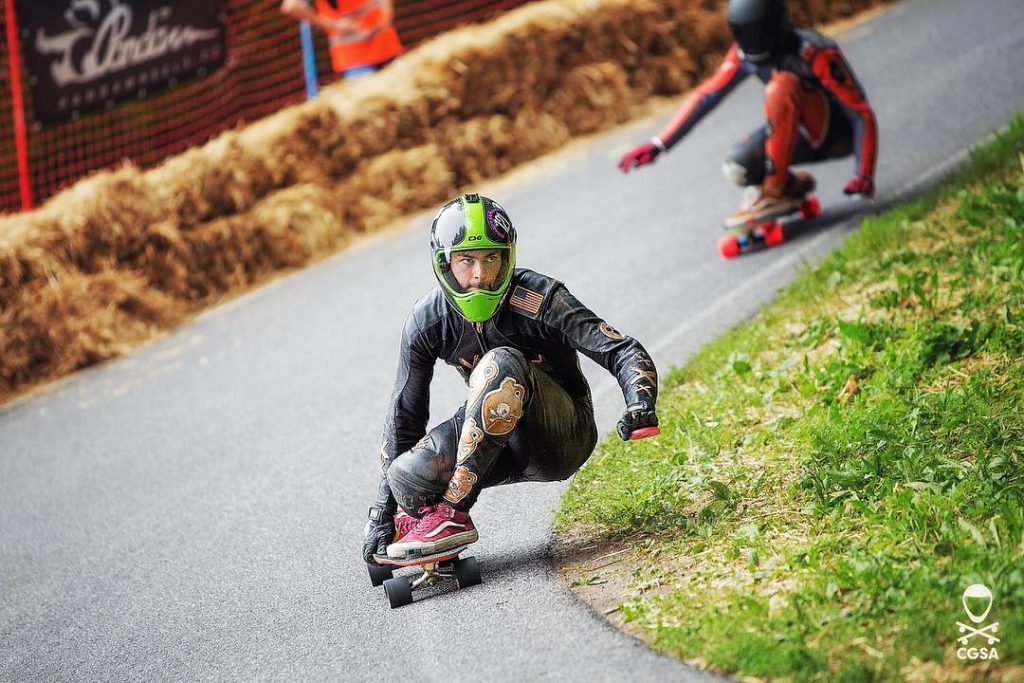 I remember seeing my good friend Max Watson, a long-time Loaded/Orangatang rider, at the 2015 Cathlamet Downhill Corral on a black board and black wheels. We struck up a conversion and he mentioned he was testing gear from Slingshot Sports, a local Hood River watersports company, that was launching a longboard brand soon. My interest led me to set-up a meeting and check out their factory in North Bonneville, Washington.
Slingshot Sports longboards would soon become Moonshine Longboards.
I left after my first visit stoked AF. I met the staff at Moonshine, saw the infrastructure surrounding the whole operation, and knew this was the next big move for me. I started as a team rider managing social media which quickly progressed into recruiting and managing our international team of riders. Eventually, I worked my way into my current role of brand manager.
---
You helped develop the Outlaw for the "xXx: Return of Xander Cage" movie, what was the developmental process behind the Outlaw and did the movie have any influence on it?
At our first meeting in Toronto, the stunt coordinators at Paramount asked what equipment we needed for the longboarding scene.
Everything from wheels, trucks, decks, bearings, shoes, etc. Ever since joining Moonshine in 2015, I knew the line-up was missing a sexy single-kick and this was my chance to push it through.
I told the production team we needed a board that fit these specs and that I know a brand who will make one custom for the film at the drop of a hat. I then reached out to the guys at Moonshine and said Paramount needs a certain board for the film.
Basically, I used my position to force an initial prototype of the Outlaw and get Moonshine in on the project.
I can't help but smile when I think back to meeting Vin Diesel in the Dominican Republic for the first time and seeing him on Moonshine – a brand I've helped build since the beginning.
On a related note, Jason Momoa of Aquaman rides a Moonshine Hooch. Coincidence? I think not! Haha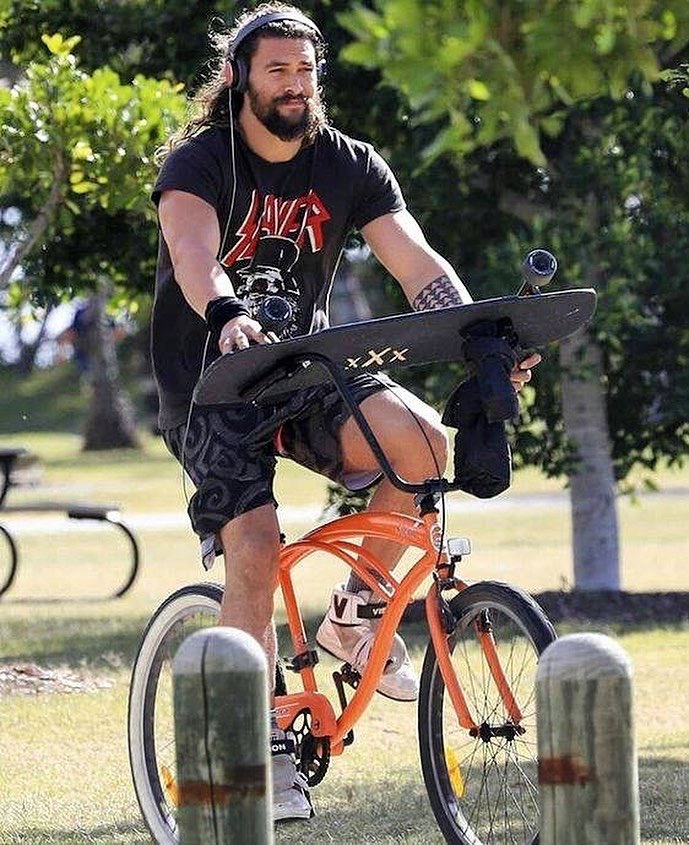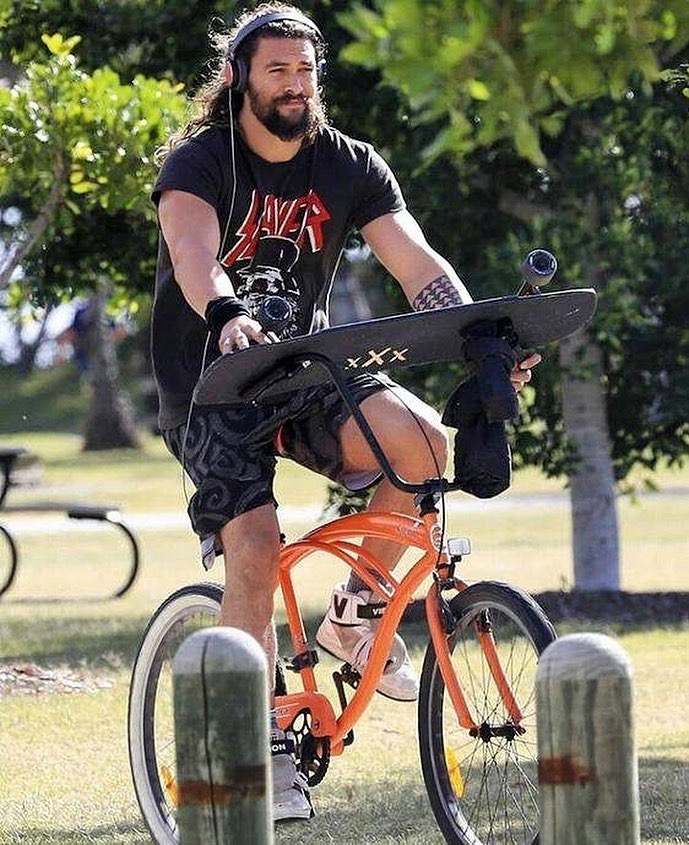 ---
It makes sense as the face of Moonshine that you'd finally be getting your own promodel, how did your experience designing the Outlaw influence the Proscrito?
After the initial prototypes of the Outlaw, we knew this deck was special. Aside from minor tweaks to optimize durability, there's a good reason why the Outlaw hasn't changed in the 3 years it's been on the market. It's comfy, stable, versatile, and above all… SEXY.
When the opportunity arose to design my first pro-model deck I asked myself, "how can we make the Outlaw even enjoyable to ride and take with me on my travels?".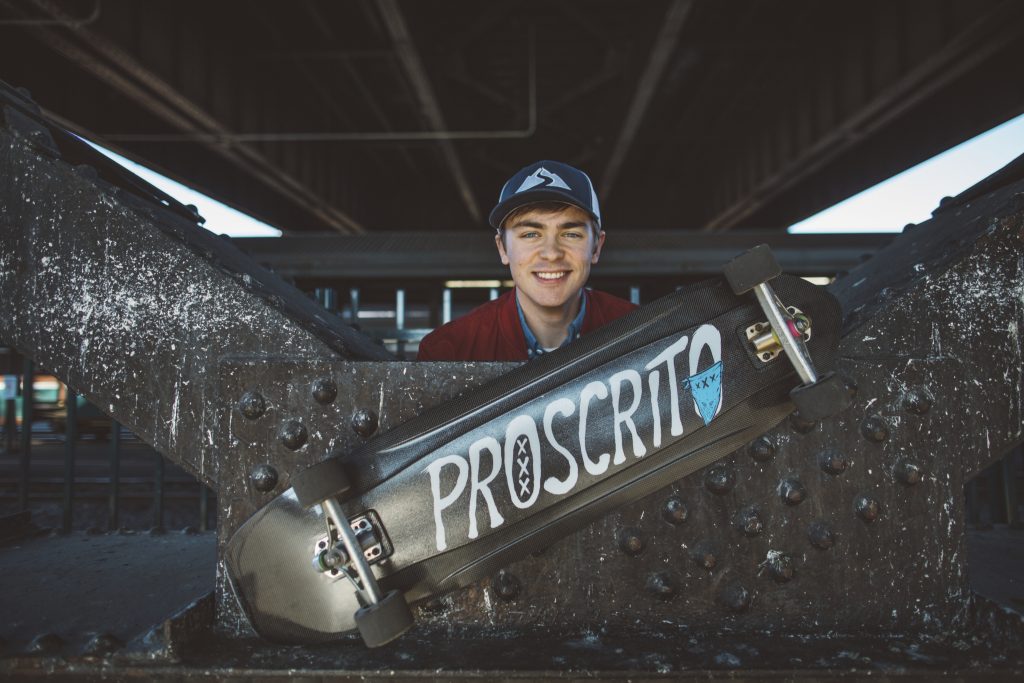 ---
Can you share with us what makes Proscrito unique? (Concave, features, etc)
To start, the Proscrito is Moonshine's first deck to implement w-concave. I'm a big fan of mellow concaves that allow a more organic and comfortable ride, but a tad bit of W just makes sense.
Our feet aren't perfectly flat, and to provide the most ergonomic downhill experience, your board shouldn't be either. We mellowed out the rocker and focused it just inside the truck mounts to provide a slight micro-drop sensation like the Rum Runner and Spirit.
Overall this concave gives your stance a slightly more aggressive and racey feel as compared to the Outlaw. To further optimize durability, we completely redesigned the grab rails and neck. On top of that we gave the Proscrito a full carbon fiber wrap for extreme strength, durability, and pop all in a lightweight 3.9lbs package!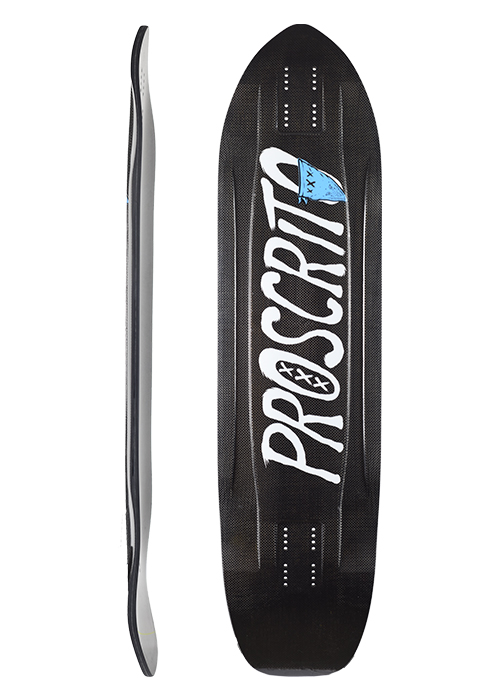 DIMENSIONS: 38″ L x 9.5″ W
WEIGHT: 3.9 lbs
WHEELBASE OPTIONS: 23.5″ – 25.75″
---
How did you go about choosing the Proscrito's name and graphic?
I wanted to build off the Outlaw legacy in a subtle but meaningful way. That board just has so much sentimental value to me being that we first developed it in the Dominican Republic during the xXx film – an experience that changed my life.
On top of that, I've studied Spanish since 2008, have spent several months in Spanish speaking countries around the world, and simply love how open and welcoming Spanish culture is.
A bit of Spanish flare just made sense! After much brainstorming, my buddy Antoine Carlotti suggested "Proscrito" which translates directly to "Outlaw" in Spanish.
---
How do you have your Proscrito setup?
I typically ride symmetrical trucks for dancing/freestyle, but I find a slight split in my set-up offers a very intuitive feel for fast freeriding and downhill descents.
I've been incredibly happy with how solid and responsive my K5s have been over the past 2 years – especially with the addition of RipTide bushings and pivot cups.
Powell snakes have been my go-to wheels since I first rode them. I just love how fun and playful I can be on my board with how much these wheels slide. It's rare to find a wheel with ALL of the following characteristics: smooth rolling, great roll speed, effortless slide initiation, durable AF.
From casual bombs through the city to big and burly mountain roads, the Moonshine Proscrito is my downhill skateboard of choice.
---
When can we get our hands on the Proscrito and how much will it be?
After a long and thoughtful prototype process, we finally finished production and have the Proscrito in stock and ready to ship for $299.
Click this link to check it out!
---
Anything else you'd like to share?
I often get asked how I have stayed so motivated and consistent over the years. The fact of the matter is that I focus a lot of my time on building meaningful connections with people that share my values. No transactional relationships, only long lasting human centered ones.
Surround yourself with kind, motivating, and confident people that are so fucking confident in themselves that they want you to have it too because they realise that confidence and happiness are in abundance, not that your confidence comes at their expense.
You're a combination of the 5 people you spend the most time with. Choose these people wisely.
---
---