Preface:
It's been a while folks. I've been away at engineering school for a year. I've been too busy to function. But now that school is over, I am back at the keyboard, and I am ready to produce good content for you. Great things are coming! Don't worry, I missed you too.
Even though we here at LongboardEnvy haven't been writing, we've definitely been skating. We've used some great gear, amassed great experiences, and we cannot wait to share them with you.
Let's have a great season.
-Ryan (and JC)
---
I think safety is important. More than any other boardsport, I'm proud that the longboarding scene puts such a healthy focus on helmet safety. I think it improves the public's view of our sport, but also prolongs the life and stoke of the scene, since you know, people aren't dropping from head injuries left and right. That's morbid, but it's true- there's a reason why so many of us are able to stay skating for so long.
I also think it's the first thing that should be on your mind when you get back into skating this season. Whether you're cruising or blasting hills, helmets are so, so incredibly important. For that reason, I'm going to start off with an article about the helmets that I've been using recently- helmets that I wholeheartedly recommend to you.
The TSG Pass.
This is a relatively new helmet. It emerged onto the scene back in 2014 by TSG, a pretty large European helmet manufacturer. It's known to the community as one of the safest, most aerodynamic helmets on the market. It's got a sleek, moto-like appearance that's a testament to its supreme fit and finish.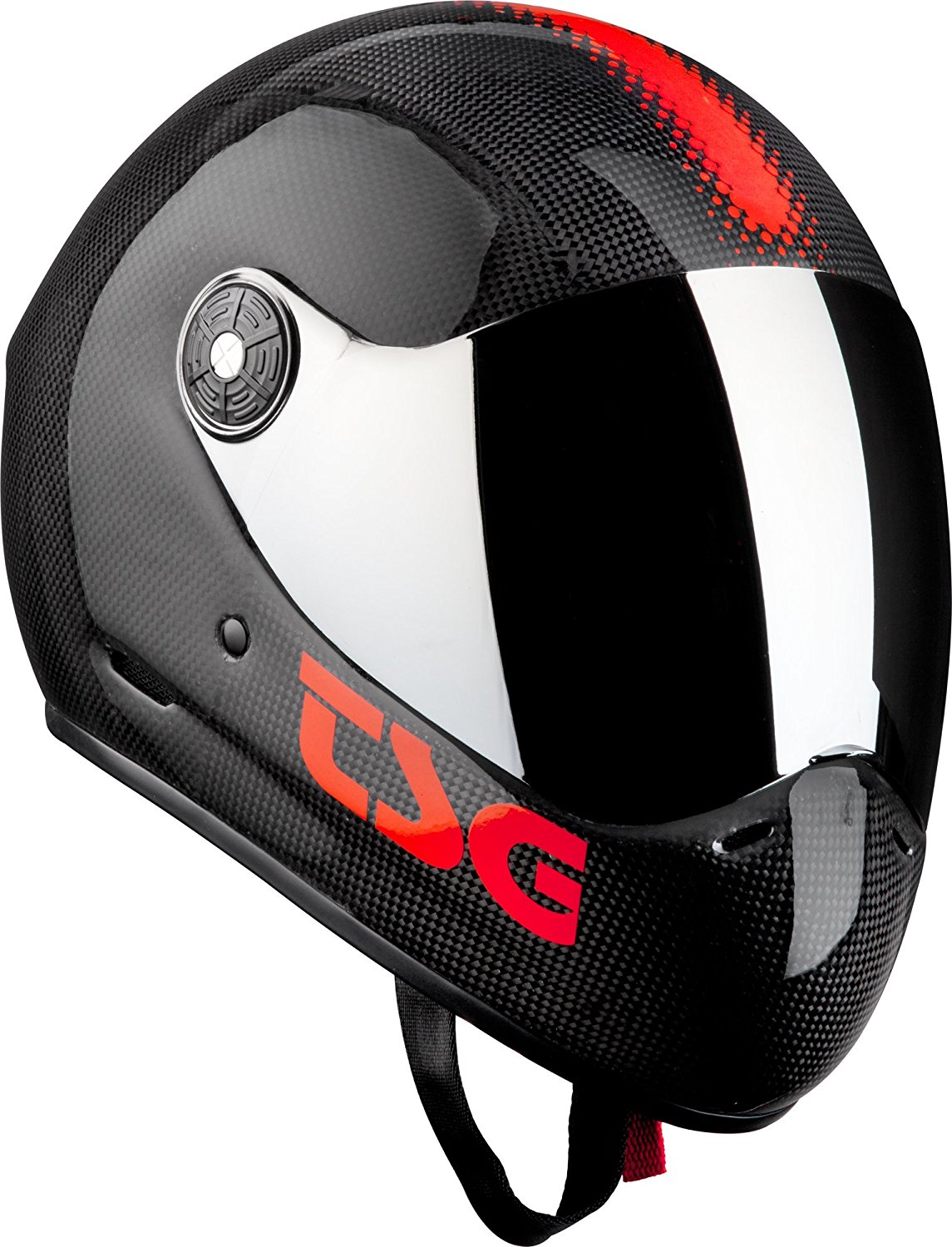 I've had a couple full face helmets during my skate career. I've had a Predator DH-6 (the older model) and a Triple 8 Racer before the TSG Pass; none of the former can rival how tight and snug the TSG Pass is on my head. It's a little bit of a pain to get on and off, but when it's on my head, it's on there for good. There's no wiggle.
It's incredibly light for how burly it looks. Lighter than the Predator DH-6, I'd say. When whipping my head around to look around me, I don't feel like it's really on there. It moves with your head and sticks to your head, so it feels like part of your skull.
The field of vision on the TSG Pass is the best out of any helmet that I've had (short of a half-shell). I don't have to move my whole head to focus on something- just the movement of your eyes will do. The edge of your vision isn't blocked completely by the helmet either- the viewfield wraps all the way around to right beside your head, so you've got all that peripheral vision and some more to spare.
The one complaint I have about the helmet is that I can no longer find different sizes of fit pads! I'd like a smaller sized cheek pad, but I cannot source any of those. I've looked everywhere, and it's completely out of stock. But that's okay, I don't wear it incredibly often and it's comfortable enough when I do.
I would 100% trust a TSG Pass if I was to ever tomahawk off my board into a guardrail. It will save your life.
The S1 Lifer Halfshell.
Literally, the oldest thing I have in my skate collection. Everything else has been replaced, used up, cored. But the S1 Lifer Halfshell (used to be white, now it's gold), has been a staple of my skate inventory for the past 4 years. It's the first helmet I bought, and I still wear it on my head daily every time I go skateboarding!
It's just comfortable. It's dual-certified, it has an awesome track record for saving watermelons for street and vert skateboarding, and it comes in a huge multitude of sizes for your comfort. It has some great color options too!
That's all I have to say about it. No complaints, nothing. Just a really good helmet.
Skate safe, skate hard!
-Ryan
(banner image by Devon Chambers [@devons_chamber])
Processing…
Success! You're on the list.
Whoops! There was an error and we couldn't process your subscription. Please reload the page and try again.