Ahmyo just dropped some of the most anticipated wheels of 2016. They've been hinting at the availability of a new freeride wheel all year and today they're available! The new wheels are known as the Vibez and with their release Ahmyo also introduces a new urethane formula, an evolution of Trust!
---
The Vibez measure 64mm tall. This is an ideal size for a freeride wheel and it's following a trend of decreasing size for freeride offerings. The smaller height allows faster acceleration and keeps your weight lower to the ground for better stability.
The contact patch measure 35mm wide and comes pre-ground from Ahmyo. The width is a good balance of stability and slip, easy to initiate a slide without any divy feeling. The pre-ground contact patch means they're shred-ready right out of the package. No mold-release or shiny finish needs to be worn off before they hit their sweet-spot.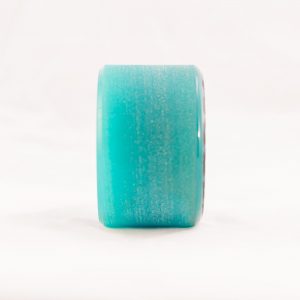 We can thank Ahmyo for this extra manufacturing step and it really makes the experience more pleasurable for the rider!
The rounded lip provides the most predictable transition from grip to slip and will reduce the chances of catching an unexpected edge. The small cores will help to hold speed longer, reduce feedback from the pavement and increase grip.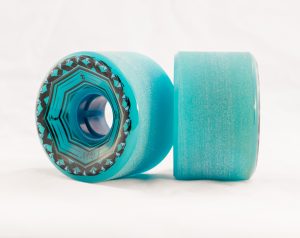 Likewise, the offset facilitates more predictable slides and transition from straight to sideways. Finally, the 84a durometer is one of the most well-rounded choices for riders of all weights. The Vibez are sure to keep you moving.
If you're as stoked as we are for the new Vibez, hit the link and pick up a set. They'll excel at everything from hitting your local grocery to slashing sidewalks or heading sideways down hill–great for beginners boards and advanced setups alike.. Show Ahmyo some love and check out their new offering!
Processing…
Success! You're on the list.
Whoops! There was an error and we couldn't process your subscription. Please reload the page and try again.