For more than a year we've seen teasing glimpses of Aera's team riders shredding on RF-1 trucks. A more affordable alternative to Aera's popular precision trucks with many of the same features, the longboarding community has awaited the release of the RF-1 with a palpable sense of anticipation. The versatile RF-1 is available today and it's rad AF!
Aera is perhaps the most highly regarded precision truck manufacturer in the longboarding industry right now. Founded in 2009 by the professional longboarder and legend himself, Kevin Reimer, Aera has routinely released trucks that shaped the progression of the industry. Kevin's experience as a rider frequently gets him to the podium, including the titles of 2009 and 2010 Word Champion. That same experience helps him design the best longboarding trucks available. Riders everywhere view Aera's precision series as the holy grail for hucking it fast down a hill.
The RF-1 is no exception. Aera has put in multiple years and countless hours of design and testing to make the RF-1 an affordable, cold-forged alternative that excels in all disciplines. No expense spared, no detail overlooked. The result is one of the most carefully considered, mass-produced trucks ever made.
Some of Aera's team riders have already spent hardy amounts of time on the RF-1s.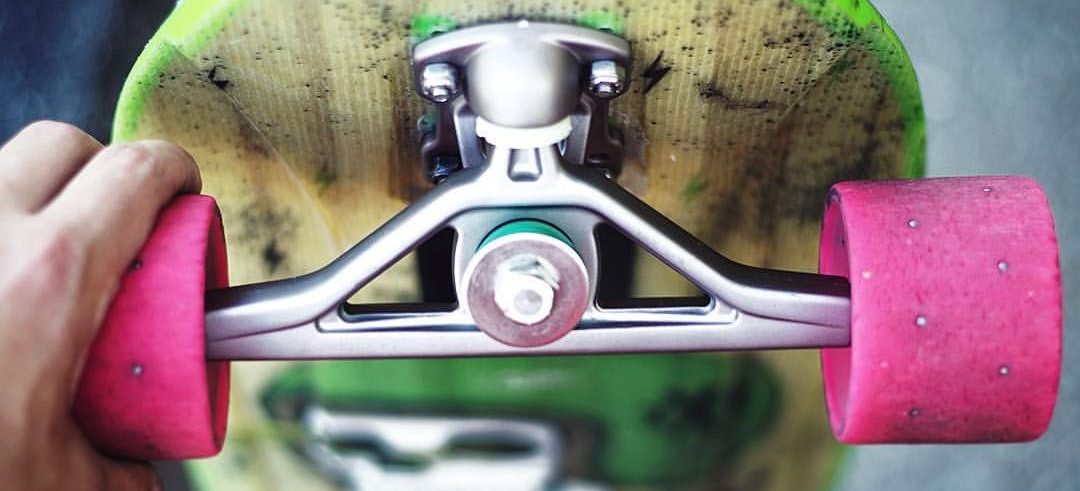 We caught up with Brandon DesJarlais to get his impressions:
---
What did you think about the trucks?

These trucks are unlike anything I've ridden before.

How do they feel?

Compared to other trucks that Aera has made in the past, these are more focused on an all around skating style. I've used them on all of my Moonshine decks with everything from racing and freestyle, to downhill and sliding.

What's the durability like?

They're super lightweight and very durable.

Where do they excel?

Personally I prefer these trucks at speeds around 5-30mph where the quick response is highly appreciated. Over 30mph, the benefits of the more stable K5 start to make more sense. Overall I love them and finally found like there's a truck on the market that truly fits my style of riding. Priced at under $200, it's potentially the best deal on the market for high performance longboard trucks!

---
So what're the details?
Cold forged hangers and baseplates with CNC cut axle holes and bushing seats
CNC machined axles (compatible with K5) and permanent, precision kingpins
Aera's own poured urethane pivot cups
Hardcore bushings, with patented bonded insert stock
Grade 8 Hardware
The RF-1s aren't only intended to compete on price, they're an exceptional value! The cold forging manufacturing process actually results in a product that is stronger than machined or CNC'd products with nearly the same level of precision. So you get strength, precision and versatility in the same package. You can rip down a hill, skate a park or get your lean on while carving it out. Aera puts a lot of time and testing into the design of each truck. So when they say these are cross-discipline you can be sure they mean it. Watch as they put the truck through it's paces in this video:
This is a truck that comes dialed in and ready to bolt on from the factory. They've considered the details so you don't have to. Aera has several complete trucks available for split-angle or split-durometer setups. Choose your combo:
| Discipline | Baseplate ° | Hanger Width | Bushing Durometer |
| --- | --- | --- | --- |
| Carve | 50° | 180mm | 88a |
| Freeride | 46° | 180mm | 90a |
| Downhill | 46° | 176mm | 93a |
One feature unique to the RF-1 are the new pivot cups and the ball pivot on the end of the hanger. At the moment, there isn't a high quality example of this interface but our writer Sam Arrington snapped a quick photo. Stay tuned here for an upcoming RF-1 review and an RF-1, K3, K4 and K5 comparison!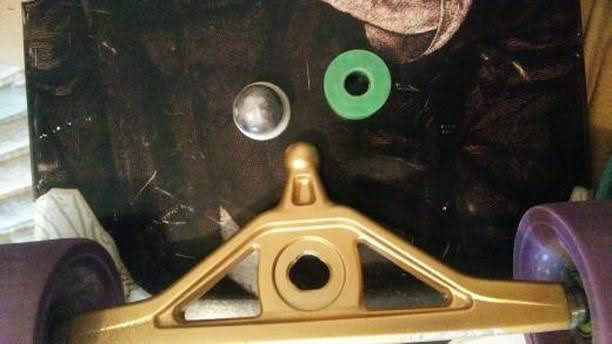 The RF-1s are the culmination of an incredible effort and one that Aera is sure to be proud of. Hit the link up top and head to Aera to order yours!
| Specifications | |
| --- | --- |
| Model | Aera RF-1 |
| Colors | Gold & Gunmetal |
| Baseplate° | 50° – 46° |
| Hanger Width | 176 – 180mm |
| Manufacturing Process | Cold forged baseplate & hanger |
| Features | CNC machined axle and kingpin |
| Bushings | Hardcore Skate Products 88a, 90a, 93a |
| Pivot Cup | Aera poured urethane pivot cup |
Processing…
Success! You're on the list.
Whoops! There was an error and we couldn't process your subscription. Please reload the page and try again.