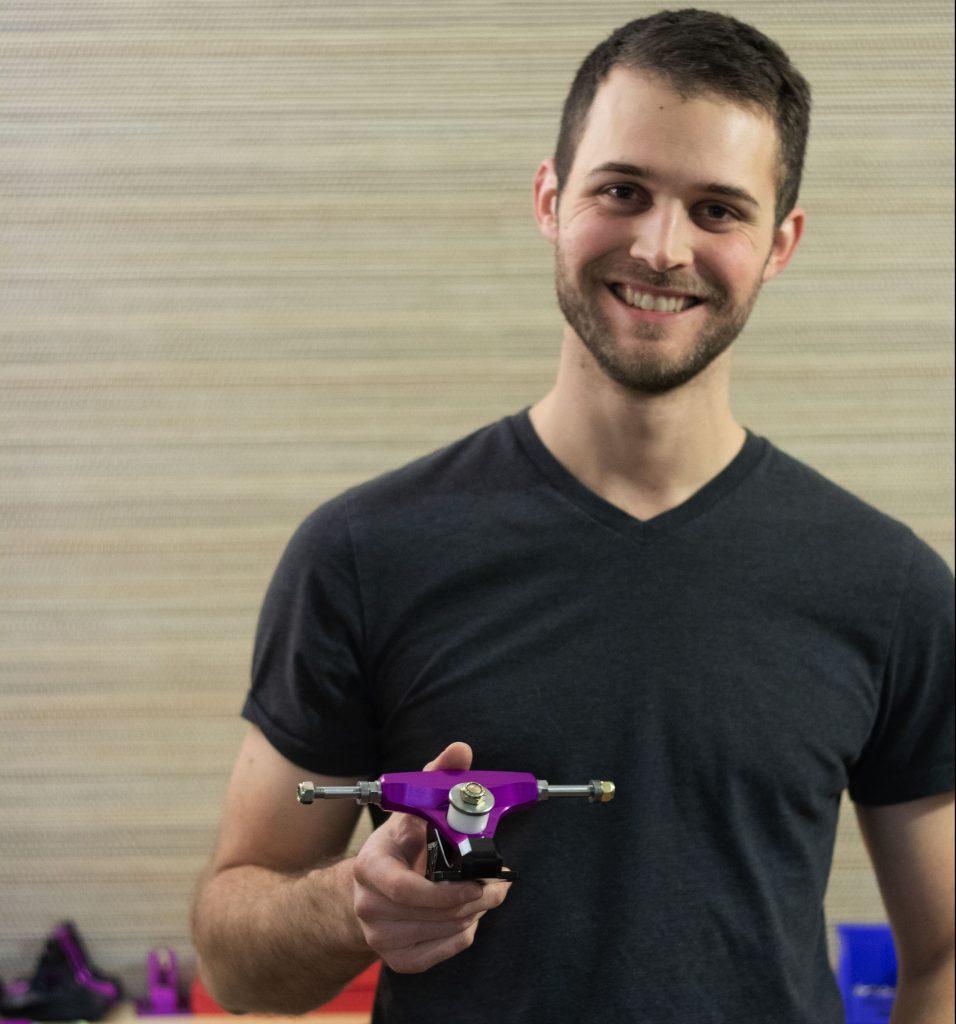 Evan Aamodt is the owner and operator of Valkyrie Trucks. We got some time to sit down with him and discuss how Valkyrie got started, the struggles of growing a brand in the current environment, which team riders to watch and some future plans.
We are thankful for the time he took with use to discuss in great detail all things Valkyrie!
---
Introduction
Valkyrie Truck Company was established in 2013 by Evan Aamodt. They're based out of Philadelphia, PA. Evan is an engineer by trade and his meticulous attention to detail is obvious in all of Valkyrie's products. They began by manufacturing adjustable baseplates in an attempt to solve the problem of swapping stock bases.
Today, their trucks and baseplates are some of the most sought-after in the industry.

---
Visit Valkyrie Trucks To Learn More
Interview
What got you into skating and how would that lead you to establishing Valkyrie?
I picked up my first longboard in 2005 from Bustin Boards and started skating with the hope that it would take the place of snowboarding during the off-season. At the time, I wanted my longboard to ride like a snowboard, and I had all these crazy ideas for how to make that happen. I was filling sketchbooks with half-baked concepts to get deeper carves, eliminate wheel-bite, and fight speed wobbles.
As I started skating more I began to embrace the differences between the two sports, and the concepts began to mature into things that solve real issues I was experiencing, like the hassle of getting base plate angles dialed in. That's where Valkyrie eventually started- making adjustable bases for popular trucks like Caliber, Paris, Bear and others.
I can't think of any other longboard companies rising up from a Kickstarter – how did it feel to reach your goal originally and how does it feel looking back at it now?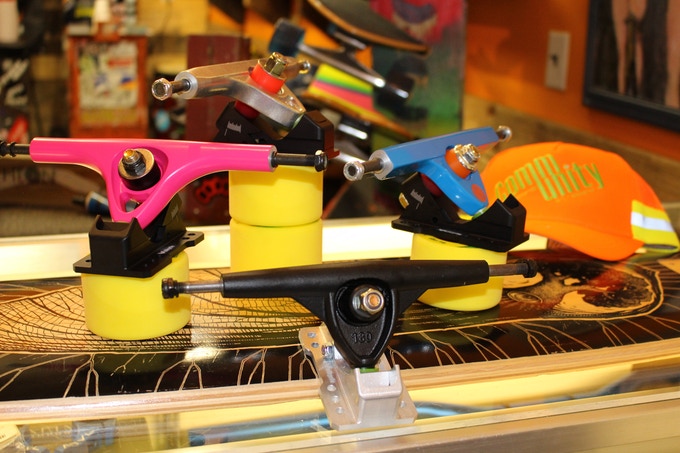 Kickstarter was a good start in the right direction, but it's been support from friends and family that have played the biggest role in getting Valkyrie off the ground. While we did reach our modest goal, it wasn't the overwhelming response I had hoped for. In complete honesty, I went into the Kickstarter with a "if you build it they will come" mentality, and now having been in this industry for almost 6 years, I can safely say that it's not enough just to have a good product. What we needed, and what we continue to build, is trust that our products are of the highest quality and they deliver on performance.
On top of that, most of us don't have a ton of money to spare waiting on Kickstarter pledge rewards to be delivered. Skaters want what they paid for quickly, and I get that. Since doing the Kickstarter, we've done a couple pre-orders through our website where no one was charged until their order shipped.
If you were willing to commit early, we would hook you up with some extra gear or a better price because it helped us anticipate demand and pay our suppliers. We're a small operation, so you'll likely see more opportunities like this if you're an early adopter of one of our future products.
Visit Valkyrie Trucks To Learn More
What originally inspired you guys to make the adjustable baseplates? (Hildr)
My college roommate and I were constantly tinkering with setups and trying to mash up one company's hangers on another's bases (*cough* *cough* Randal bases). Needless to say, it's frustrating dealing with risers, bent and odd-length hardware, mismatched ride height between your trucks, and pivots that are always just a little bit off.
At the same time, I was starting to consider starting a truck company as a real possibility. One day, I was going back and forth between a couple concepts for hangers I was designing when it dawned on me that every truck concept I sketched had an adjustable base at its core. Well, why not focus on that? The way I saw it, there were plenty of good trucks on the market, but none of them had a particularly good range of base plates available at the time.
From there, we went on to make two lines of adjustable bases – the first for REY & Bear, and the second for the Randal geometry, which fit basically every popular cast RKP (Paris, Caliber, etc.). With the Randal geometry checked, it wasn't hard to adapt the platform for some precision brands like PNL, Skoa, Aera, and Rogue.
Will we see a revival of the Hildr plate? Is there a possibility of getting a Hildr style plate for the Voxters any time in the future?
I would like to create another lineup of adjustable bases that incorporate everything we've learned so far. We'll start with the Voxter geometry and quickly grow into other brands that have been supportive of our work with adjustable bases, like Rogue. I want to give a shout out to Rogue's team for snatching up the limited run of Rogue-specific bases I made a couple years ago.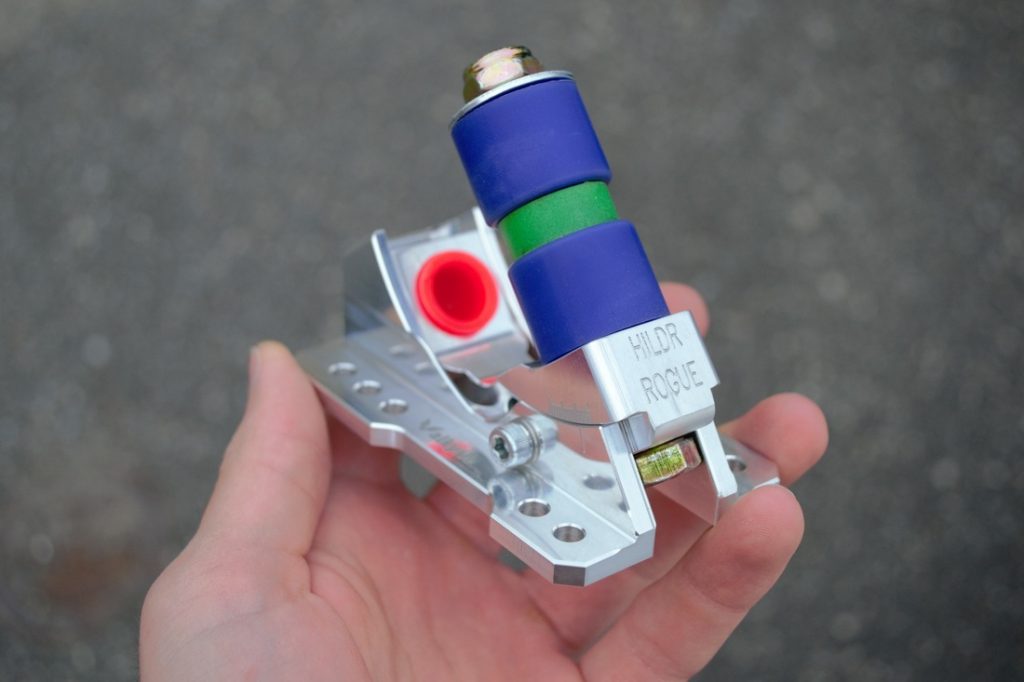 How did you come up with the co-planar bushing for Voxter and what were your initial impressions when you realized this method actually worked?
Back in 2010 Silverfish longboarding B/S/T was the place to get used gear, and I went overboard buying, selling and trading for every set of trucks I could get my hands on. Part of this was so I could spec each for the adjustable bases, but at the same time I was riding a ton of different trucks and developing opinions about attributes I liked and disliked.
There was one set of trucks in particular that I attribute to leading to the coplanar bushing seat, and it was a set of OG precisions that had a ton of material between the two bushing seats (this was not for a spherical bearing, but I imagine just for extra robustness). I found these extremely hard to dial in- they either didn't turn at all with medium hardness barrel bushings, or you had to ride soft cones which in turn limited the stability considerably. So this got me thinking – if a big gap between the bushings is bad, how good would a truck be if there was no gap between the bushings?
After a bunch of iteration, I landed on something very similar to the bushing arrangement you see on our trucks today, and I machined a rough-looking V1 prototype that could illustrate the concept. These had far too much rake, they were a pain to assemble and they looked like some hacked-together science project. But they proved we could get a stable center and deep lean out of the same setup.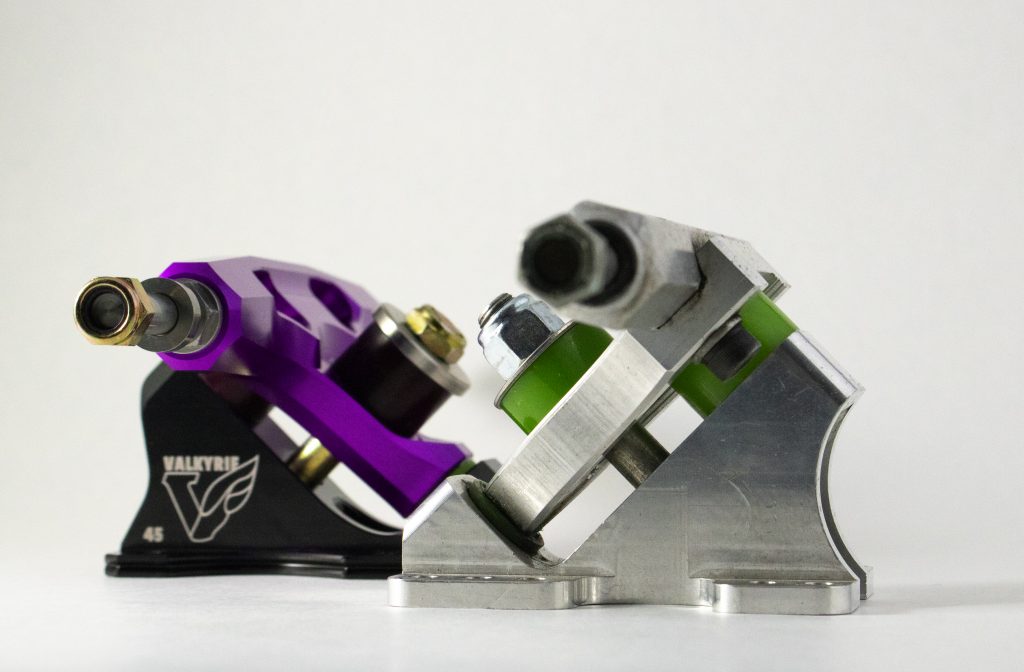 We are currently on gen 2.5 for Voxter which gave us adjustable hanger lengths and small tweak to the hanger itself. Are there many more tweaks you guys have in store for us?
Oh yes! We just added a new 40 degree base to the lineup, and we're overhauling the popular 145mm hangers with a re-release coming early this summer. Every batch of trucks is an opportunity to tweak and fine tune details that most folks probably won't even notice, but they're there.
I am constantly looking at each component and asking whether it's providing value to the rider; if it's not, we change it and reinvest in another part of the trucks. A perfect example of this were the machined kingpins you saw on our bases for a minute last year. Were they cool? Fuck yeah they were! They were insanely over designed. Did they make the riding experience noticeably better than the mil-spec kingpins we're back to using now? Not really.
And so, for that reason, we went away from machined kingpins and invested in things that riders' wanted: we started putting Venom and RipTide bushings in each set of trucks, stock, and added adjustable axles with stainless spacers for barely any more money.

Visit Valkyrie Trucks To Learn More
Do you think we will get more colors or will Valkyrie be staying with purple and black?
There's a good chance you'll see a limited run of hangers in a new colorway (likely with the release of the new 145s), but expect Purple and black to stick around for a bit. Our anodizer is churning out some incredible, deep color with these finishes that photos don't do justice to.
As for bases, you can have any color you'd like, as long as it's black. They look damn good with everything.
The recent rise of slalom trucks in the downhill scene gave us the slalom Voxters. Why did you go with the specific widths and rake for them? What is the best way to setup and dial the slalom Voxters?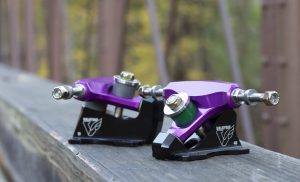 Our best products come from my team. I'll admit that I was very skeptical about narrow trucks, but Ed Keifer insisted that he needed narrower hangers and voila, the 145s came into existence. The slaloms were the next evolution, and Ambroise was a driving force behind them. At this point, I'm really hooked on my 115s and ride them almost exclusively.
We make downhill trucks first and foremost, and we tailored the DH Slaloms to excel when you're going fast. For that reason, we settled on an adjustable width of 115-125mm because we felt it was better suited for a wide range of riding styles and terrains. Similarly with rake, we chose to go with less than what you would expect to see on a cone-pumping setup. We did this to keep our trucks feeling rock-solid at speed, and ensure they react exactly as you want them to in corners.
These are kinda like an amped-up version of our standard downhill lineup- they're more lively and nimble, but still retain the signature feel of our patented coplanar bushing seat layout.
For anyone concerned about moving to a narrow truck, I can assure that if your form is good, you won't have an issue transitioning to Voxter DH Slaloms. They're more responsive and grippier than our wider models, which opens up new lines on your favorite hills.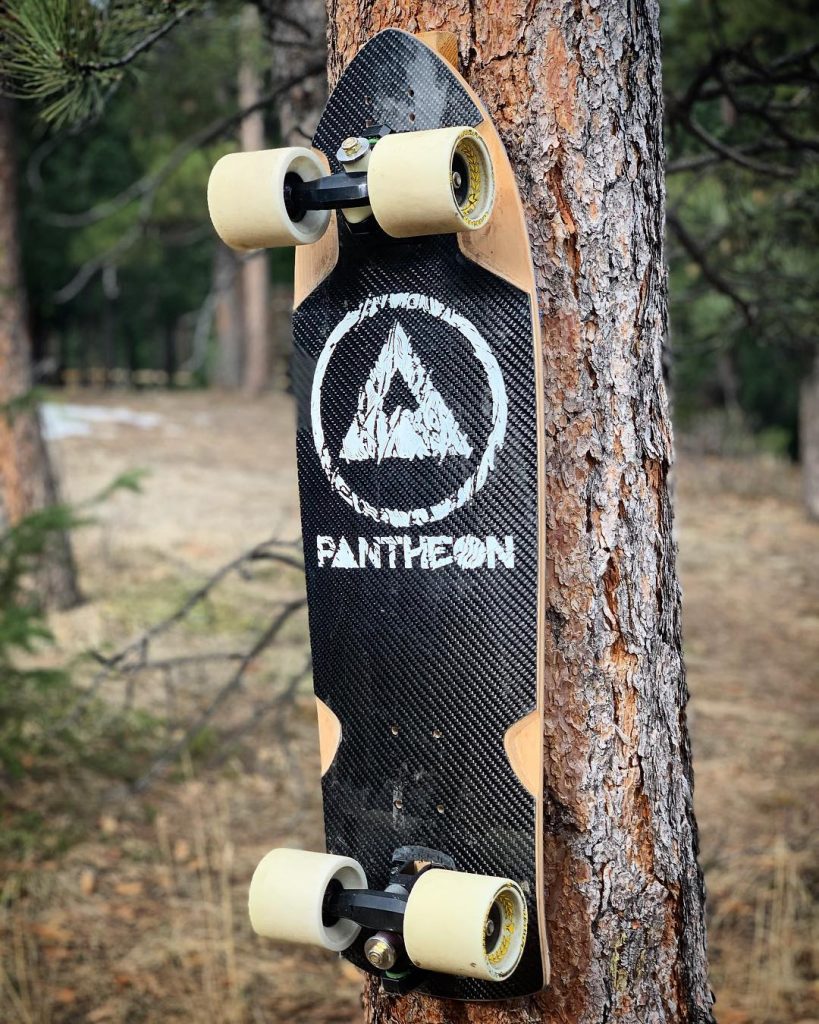 Regarding setup in general, most of us are riding big splits (45 front/15 rear), wide wheels, and narrow decks. The last point is one most folks have heard before; match your deck width to the width of our trucks + wheels. For these, we'd recommend a board with a max width around 9". I'm 170lbs and I have my Pantheon Seed setup with hangers set at the 115mm width, Venom Magnums, a 45 degree base up front and a 15 in the rear (I used a wedge block under the 15-degree base to compensate for the angle of the tail). I'm currently running RipTide KranK formula bushings all around, with 87a/87a up front, and 93a/96a in the rear.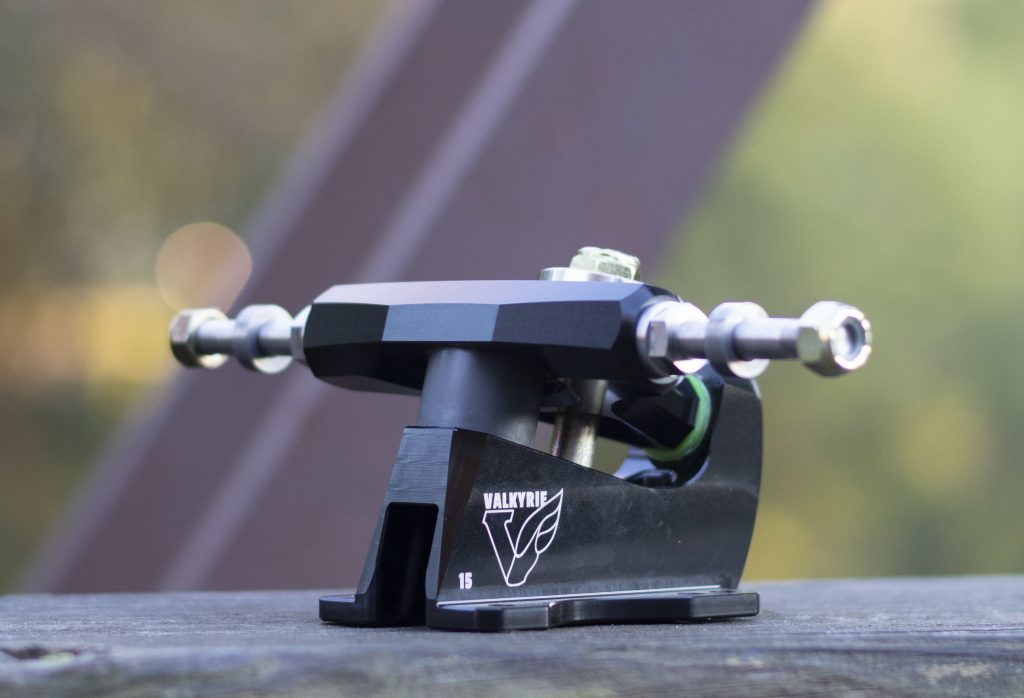 Another popular trend has been cold forged trucks, does Valkyrie have any interest in this form of construction? Any particular reason you wouldn't want to use it?
We'll get there someday, but don't hold your breath. While there are obvious cost benefits, it's very expensive to tool up, and very difficult to make changes to the trucks once the tools are made. What I love about machining our trucks is that I'm able to constantly improve them from one batch to the next. There's always room for improvement, and as long as we're around, you'll see us constantly striving for perfection.
Visit Valkyrie Trucks To Learn More
A brand is nothing without it's team, who keeps Valkyrie on its feet?
As a Philadelphia-based company, our team grew locally at first with guys like Steve Fitzmaurice, Zakk Hall, Jake Scarberry and Ed Keifer really helping Valkyrie get into the limelight. Rachel (Bagels) Bruskoff and Nick Hansen also joined very early, and the two of them embody an energy and all around positive skate vibe that's contagious.
We have some amazing talent overseas, too, which includes Robbert Van Haaften in the Netherlands, Ambroise Trauet in France, Pedro Escarda in the Philippines, Diego Poncelet in Spain and Tristan Cardillo in Switzerland. Eric Bourgeois has been doing amazing work holding it down in CO, and Chris Bustamante has been very involved in the North East outlaw scene.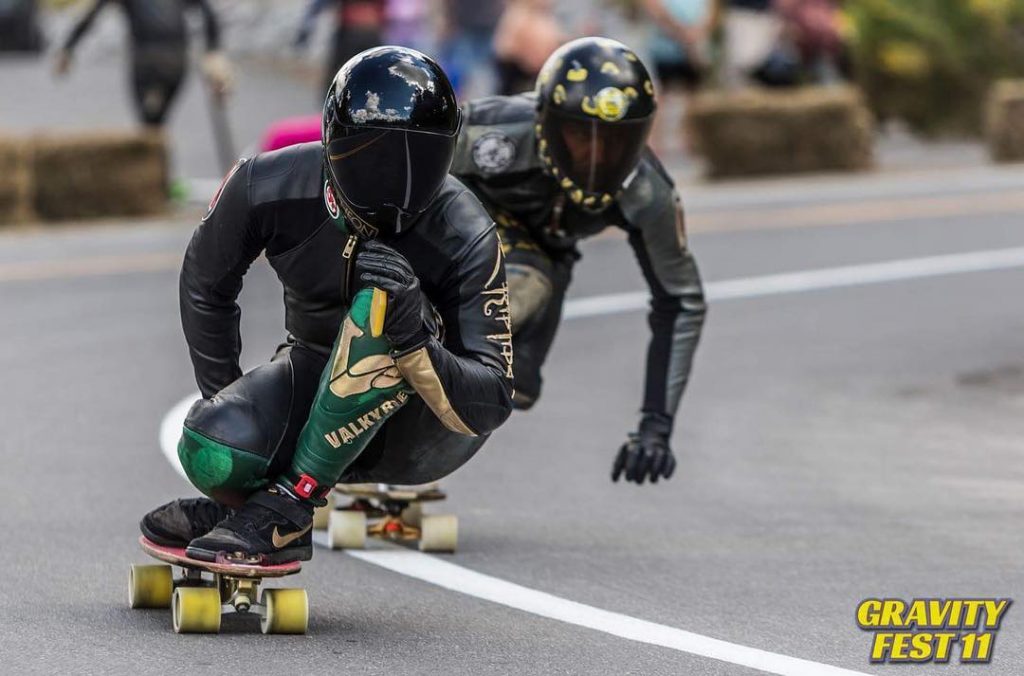 Who are some team riders we should keep our eyes on in 2019?
I think you should be following everyone on our team, but I'll highlight a few. First is Ambroise Trauet of Lyon, France. Ambroise is doing things on our DH slaloms that melt the mind, and if you haven't seen him skate yet, you need to. He was a driving force behind the DH slaloms, and he's constantly pushing me to test new designs. Peep his latest edit here:
Rachel "Bagels" Bruskoff is constantly traveling and skating some of the most amazing places. If you want to stoke your wanderlust, you should definitely follow her as she highlights her skating adventures all over the world.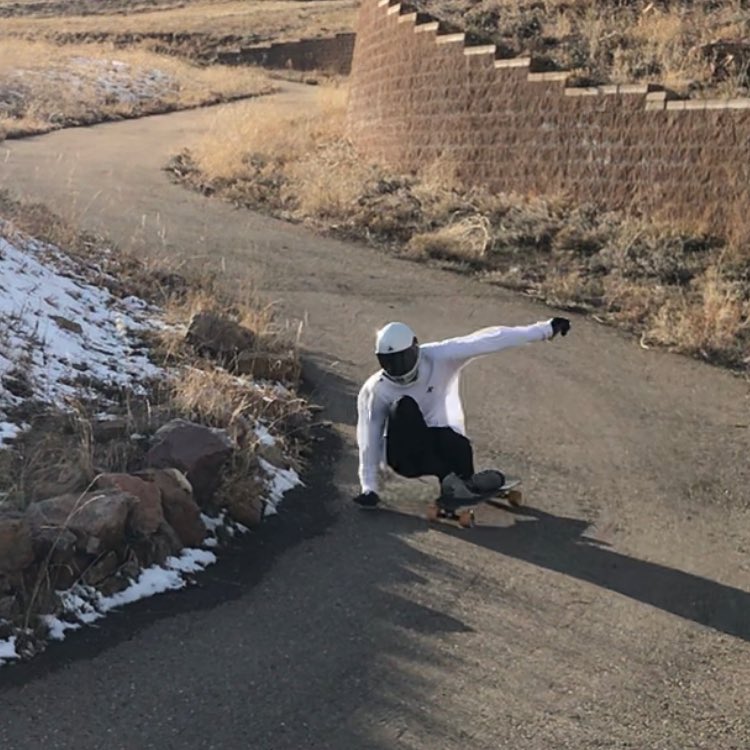 Both Zakk Hall and Eric Bourgeois have awesome style on a skateboard and have consistently delivered on some amazing media over the years. But in addition to their skating, I want to give these guys a shout out for stepping up their involvement in the skate scene with their own companies. Zakk is the man behind Meat Bicycle Skateboards here in Pennsylvania, and Eric is a founder of Boujee Boardshop based out of Golden, CO. I'm proud to get to work alongside these guys.
Visit Valkyrie Trucks To Learn More
Anything else you'd like to share with us?
It's been awesome to have been a part of the downhill scene for the past 6 years. The feedback I've received from folks who skate our trucks has been outstanding, and it's a huge part of why I do this. I don't think we got here by accident; however, my design philosophy has been to put the skater first, and make sure what we're bringing to the table is functionally superior, manufactured to the highest quality, and is built to last.
For example, the reasons for creating the coplanar bushing seat geometry are deeply rooted in shortcomings I've found with other trucks: we wanted stability, but didn't want to give up lean and turn. We wanted the low maintenance of a standard RKP truck design, but were never going to create a system that felt the same as everything else on the market.
Where we netted out was a truck geometry that is stable in straights, leans comfortably through corners, and transitions very controllably between grip and sliding. Voxter uses the same two tall bushings and a single pivot that most other trucks do, but the unique arrangement helps it stand apart in a functionally significant way.
Other seemingly small design elements are specifically chosen to make our trucks even easier to use and provide value to our customers. For example, we use pivot tubes as opposed to pivot cups because they're much easier to replace; we machine our cupped washers to have a perfectly flat top so they have 100% engagement with your bushings even when flipped; we machine a full hex into our axles so replacement is easy in the unlikely event you need to do it; we use 17-4 stainless for our axles for high strength and good corrosion resistance; we use 304 stainless for our axle spacers for the same reasons; and the list goes on and on. If you want to geek out about some of this stuff with me, the first of several highlight videos we're going to put out is on our axles, which you can watch here:
We're going to keep working our hardest to deliver consistently awesome products. Big thanks to the skate community for supporting us in this effort, and thank you guys at Longboard Envy for the opportunity to talk about it!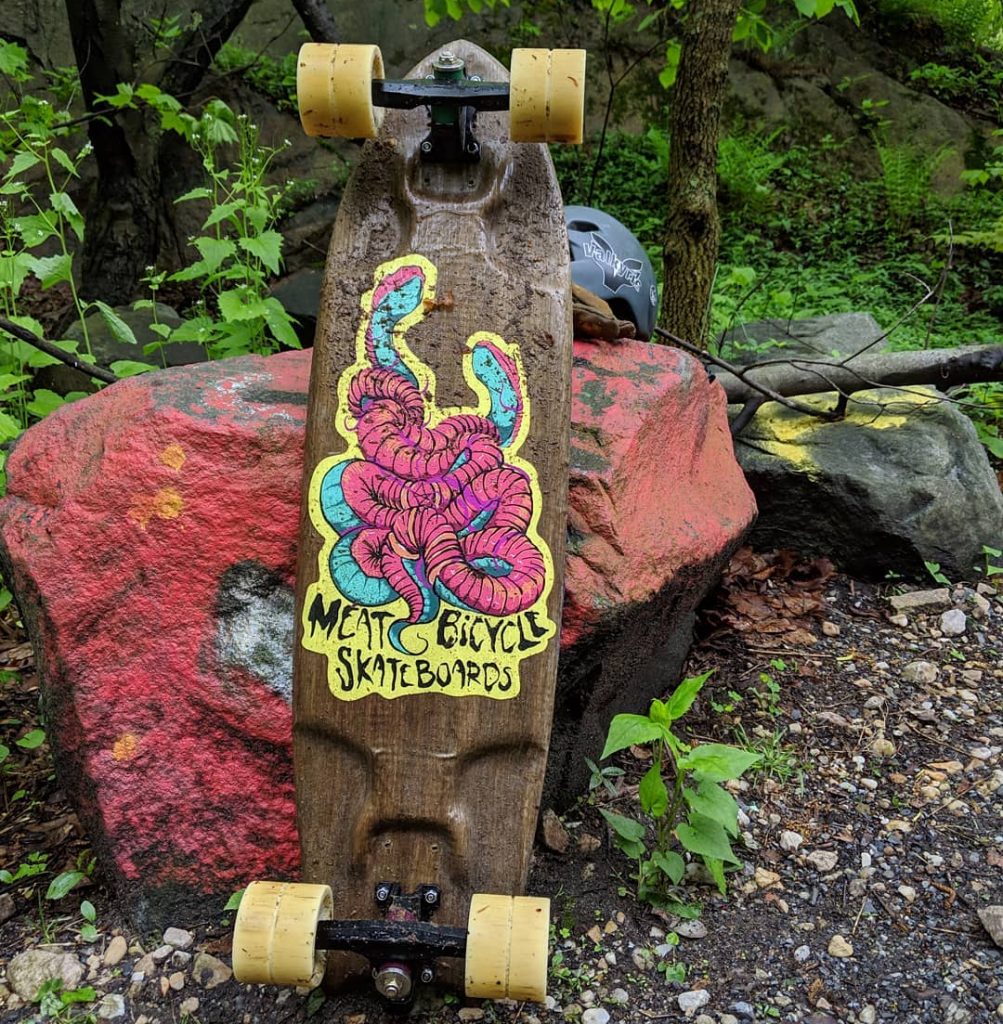 ---
Want to read more like this interview with Vaklyrie? Sign up below!
Processing…
Success! You're on the list.
Whoops! There was an error and we couldn't process your subscription. Please reload the page and try again.
---