As a skateboarder, I've spent most of my time on Rayne decks. I enjoy the steeper concaves, light construction and the longevity of stiffness that comes with Rayne's signature vertically laminated bamboo construction. I'm aware that the last writer's pick was a Rayne Exorcist, but that's only because well, I hopped onto a Rayne Reaper after the Exorcist and feel that I've progressed tremendously because of it. Other boards will come, I assure you. But today I wanted to speak a bit about the Rayne Reaper and why I feel that it's one of the best double drops on the market today. 
(There's no Reaper video, but the Nemesis is very comparable.)
A little bit on the history of the Reaper- the first double drop that Rayne made was the Demonseed, one of our favorite longboards for beginners. It was introduced as a push board for long distances- but it soon gained popularity as a downhill deck and so the Nemesis and Reaper were introduced as size alternatives for people with different sized feet and leg lengths. The Nemesis was massively popular for a few years for its large drop and drifty attitudes- but the Reaper was swept under the rug a little when it came to the double drop scene because it was small for a lot of people.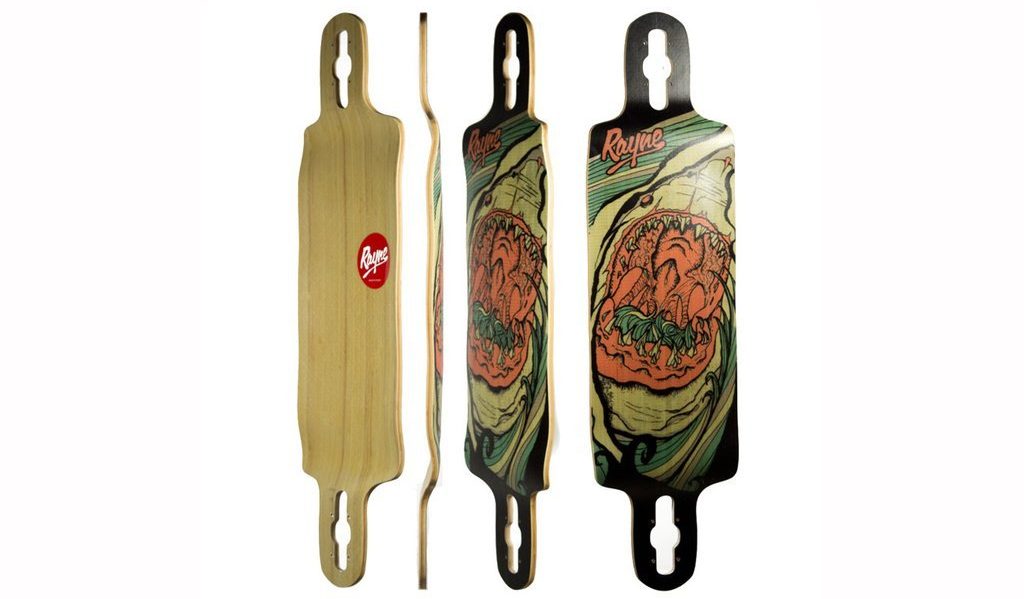 It's the perfect size for me though- I have a really small stance (I mean, I used to ride a 34 inch downhill topmount) and I hate having extra board outside of my stance. So large double drops like a Nemesis are a no-go for me- I feel sluggish and sloppy having an extra 4 inches of board all the time past my back foot. The 36 inch nature of the Reaper gave me a compact, defined standing platform for my feet and I could comfortably stand drop-to-drop without feeling too spread out.
It was really confidence-boosting as I have trouble finding a comfortable place on a lot of boards. I had the issue on my Loaded Tesseract, Omen Airship, and Vandal. But having a HUGE drop that both my feet could contact comfortably was a source of unremarkable confidence that led to me sending it a significant bit harder in the following weeks. Sound familiar? You've heard us talk about drop-throughs when we talked about the best longboards for beginners. Of course, they're not only for beginners! Also, having tiny feet (size 8 mens) meant that most decks are too wide for me, but the 9.5 inch width of the Reaper was perfect for me to keep my back foot in a position where I could go rail-to-rail for comfortable sliding and cornering.

Some things about the concave. The Reaper's concave is just simple tub with two drops, but it's a lot better compared to some of the double drops on the market for the reason that the tub stretches all the way to the drop with minimal concave-less area. Many other double drops seem to have this weird foot pocket that's lacking any concave before the drop, and I always found that a little undesirable. The drops aren't shallow, but not steep, and just simply linear. They're great for leaning into and wedging your foot into for slides and shutdowns. There's not much to the concave. It's not complicated, it just works very well.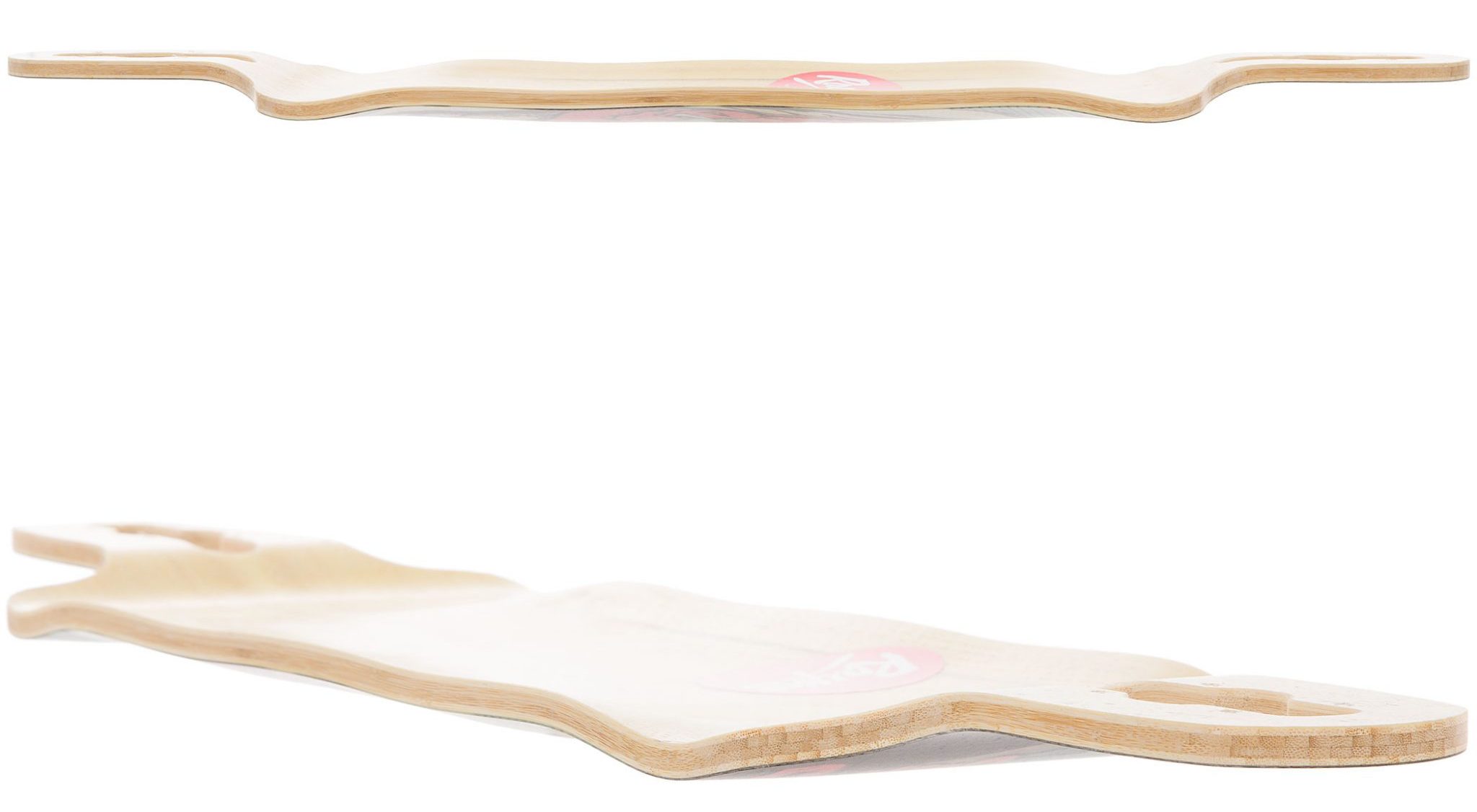 A note about people saying that double drops are noticeably driftier than topmounts; it's true! I had a much easier time drifting and kicking out slides on my Reaper than I did on my Exorcist. Because the force you apply to your deck is closer to your axle height than on a topmount, you'll have a better time sliding. Whether that lack of grip is good or not is up to you though- I've had to learn to drift a lot earlier on my Reaper since it just doesn't kill the same amount of speed as a topmount.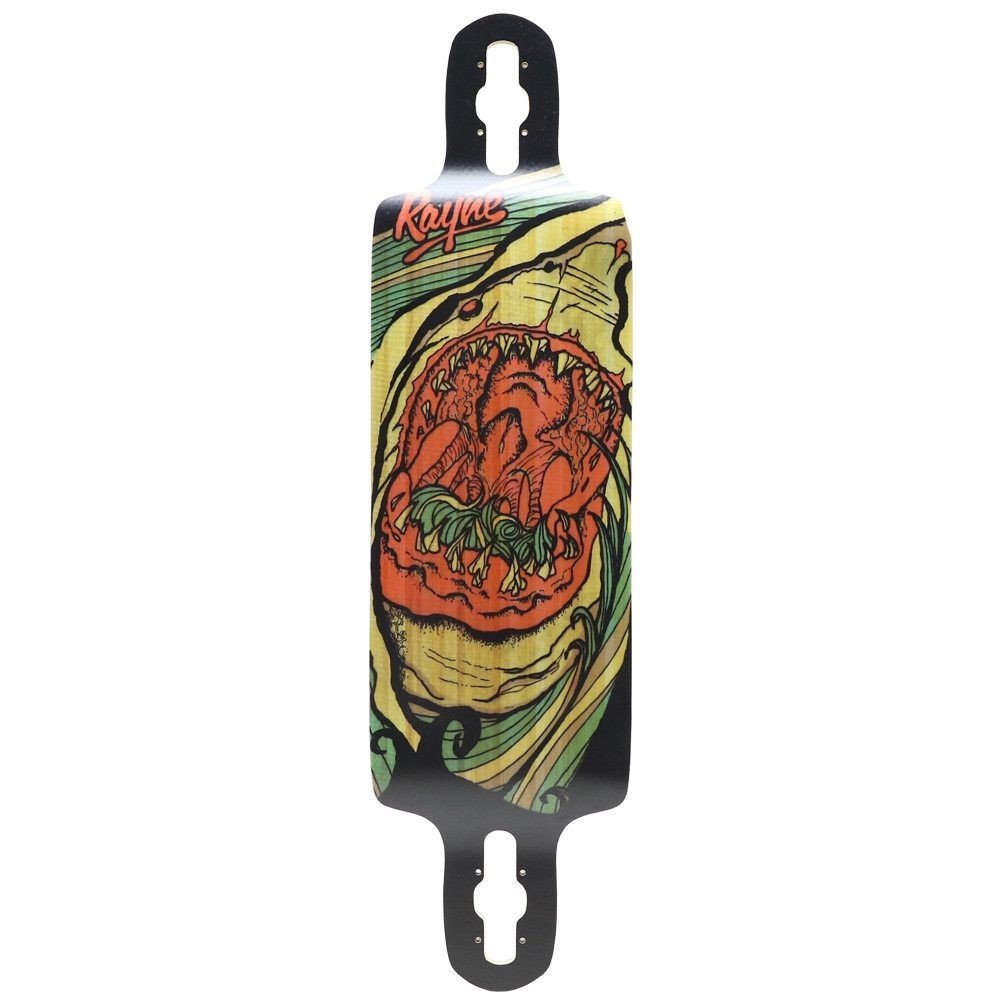 All in all though, the Reaper is a beautiful, small double drop for everything from commuting to downhill and freeride. It's not too low, it's definitely not high. Just a no-frills double drop for all your double dropped needs. Definitely pick one up and see for yourself!
Processing…
Success! You're on the list.
Whoops! There was an error and we couldn't process your subscription. Please reload the page and try again.