Five years ago, Voxel entered the longboarding scene determined to make high quality products and bring their vision to the community. They've made leaps and bounds in those 5 years – from two workbenches at home in to a 10×30 mini factory in present day. They're now setting the tone for the integration of technology into the manufacturing process with 3D printing.
We last spoke with Voxel in 2017 when they released the 3310. Even then, Voxel understood the importance of iterating until things were right – they made five molds before they got the 3310 just right. Now, you can see how they've incorporated rapid-prototyping and iteration into their products.
2021 has been a banger of a year for Voxel and as the winter approaches they're more ready than ever. Read on for our interview with Voxel and what they've been up to this year.
---
Voxel Boards
Voxel Boards is a boutique operation based out of California. A garage-startup founded in 2015, they're pushing the envelope with an interest in incorporating technology and artistry.
We sat down with founder and owner Shawn to learn how Covid has affected them, what's new and exciting and what they have in store for the future.
The next generation of skaters is inspired by what we leave behind for them…

Shawn – Voxel Boards
Interview
Q: Can you talk more about the design and construction of the Coastal Cone Deck? What makes it special? How did you determine the shape? What is the construction method? What is the premium construction option?
The Gravos² was designed primarily to bridge the gap between the casual skater and our more serious downhill and freeride skaters. Rather than functioning as the pinnacle of someone's kit, it's a middle of the road option for the beginner looking for an entry-level deck without too low of a ceiling for their growing skill potential.
This is largely reflected in both variations of our construction. VC-HYBRID is more affordable, without many compromises for a board with this form-factor. HIGGS LITE offers a chance for customers to extend that skill ceiling even further with a relatively stiffer construction and more advanced features available like Urethane bumpers and flush mounts without compromising on structural integrity. 
Q: How has the larger shop impacted your business? What were you working in previously? Now that you've been there a bit, what do you like most/least?
When Voxel Boards first began, I worked anywhere I could. I worked with a friend on his patio, and with a small spacebwith a couple work benches in my own garage.
At the end of 2018, moved into what I could call my first official workshop. That 10′ x 10′ space wasn't much larger than the garage I started in, but this time I could use virtually the whole space.
Later in 2019 I graduated into an even larger space around 3 times the size and I haven't looked back. Now I have room for many larger and necessary tools like my Band Saw, or the CNC Table I built. There's a mobile workstation I use. Unfortunately I'm a bit scatter brained, so I spend a lot of time cleaning up my messes. I'm working on making my process a lot cleaner with a dust collection system.
Q: You mentioned you're a domestic manufacturer – how and where are your materials sourced?
Canadian Maple is imported from our supplier in Toronto, and they also provide a small amount of bamboo veneer from it's native China. We also use a supplier in Oregon for more specialty veneers. Our 3D printing Filament is actually manufactured in the Pacific Northwest, and our water-based epoxy is actually poured right in my hometown. There is a lot more that goes into what I do and work with, but I try to stay as close to home as I can, when I can! Since our decks are made in-house we hope that as Voxel Boards grows we can pass on the benefits of direct quality control and custom work.
I got into this line of work because I wanted to get my hands dirty myself, not pick deck features out of a factory catalog. The idea of shipping materials across an Ocean to another country with a factory, only for them to send over the final product to be distributed again, doesn't sit right with me.
Instead, everything is designed and made under the same roof and shipped directly from the workshop to the customer.
Q: Can you talk more about your process? I see you use 3D Printing and CNC routing pretty extensively. As a tech enthusiast and amateur printer, these technologies really interest me. Which printers do you use and why? The CNC Router appears to be one you assembled yourself. What was that process like? What controller do you use, what software, etc? Finally, what roles do these devices play in your manufacturing process?
3D Printing has become the back bone of my process. I can pivot with more freedom to create a variety of different products with high quality to provide to my customers. Moreover, the ability to quickly prototype and discover potential errors or to fix defects in all throughout the design process is invaluable. My longboard moulds are now either cnc'd wood, foam, or 3D printed. Incorporating computer controlled accuracy allows me to create modular or interchangeable moulds, and let's me keep things close to home. I have heard rumors between companies and factories sharing moulds or processes without permission. There will be no leaks here.

Finally, I can continue to share products, concepts and ideas for free or open-source with the DIY community. There are lots of people out there like myself that didn't have much help getting started. I've always kinda felt like an underdog, but if I can help just one person who's willing to stretch their hand and do something for themselves, then I feel accomplished.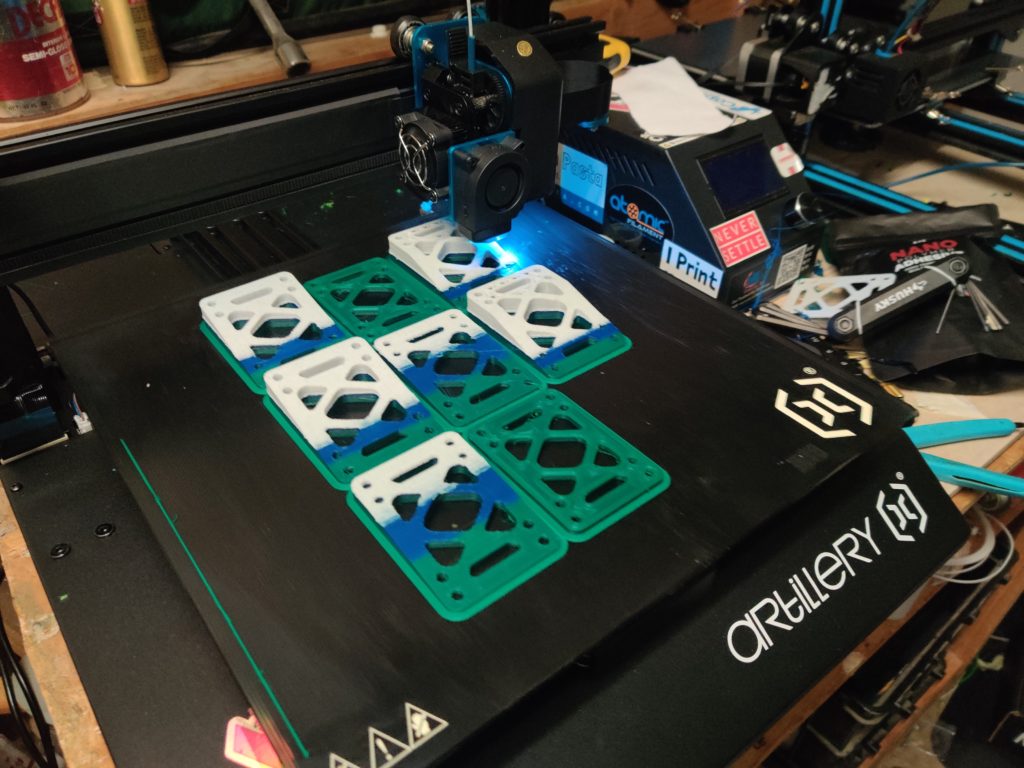 Q: We've seen that your 3D printed products have been quite popular (Footstops, angled risers, concave implants) – what's the durability / rate of return or issues like for these products? Are customers happy?
3D printed products are very interesting and very tricky! Over the course of 2 years I've had my products pushed to the limits and have adapted with the data I received. As someone with a pinch of game-design background, 3D printing gives me the unique feeling of being able to push out frequent "updates" to designs when I discover a better way to do things.
I knew from the beginning, that there would be many more people like me who would try to print skate-gear for themselves. When I first began looking online for available footstop 3D Models, I was pretty turned off by what I saw. Everything seemed bulky, fragile or just down right ugly. I knew if I wanted my products to succeed, I would have to distinguish myself from the amateur printers somehow. Original, and proprietary designs were the first part of that puzzle. I wanted my foot stops to be simple, distinct, and designed specifically to leverage the process of FDM printing to it's advantage. I kept first footstops compact, and rather than just taking any old model of a shark or piece of pizza and modeling a hole in it, I opted for designs considered from the ground up to be more geometrically stable and durable.
Fast forward to 2020, and I have inspired my own wave of competition! I've only continued to further my niche with upgraded and capable machines, and I've moved towards "specialty printing" with more exotic materials. I want to ensure my customers that I have their back, so if anything comes up, I replace the product after a small forensic analysis.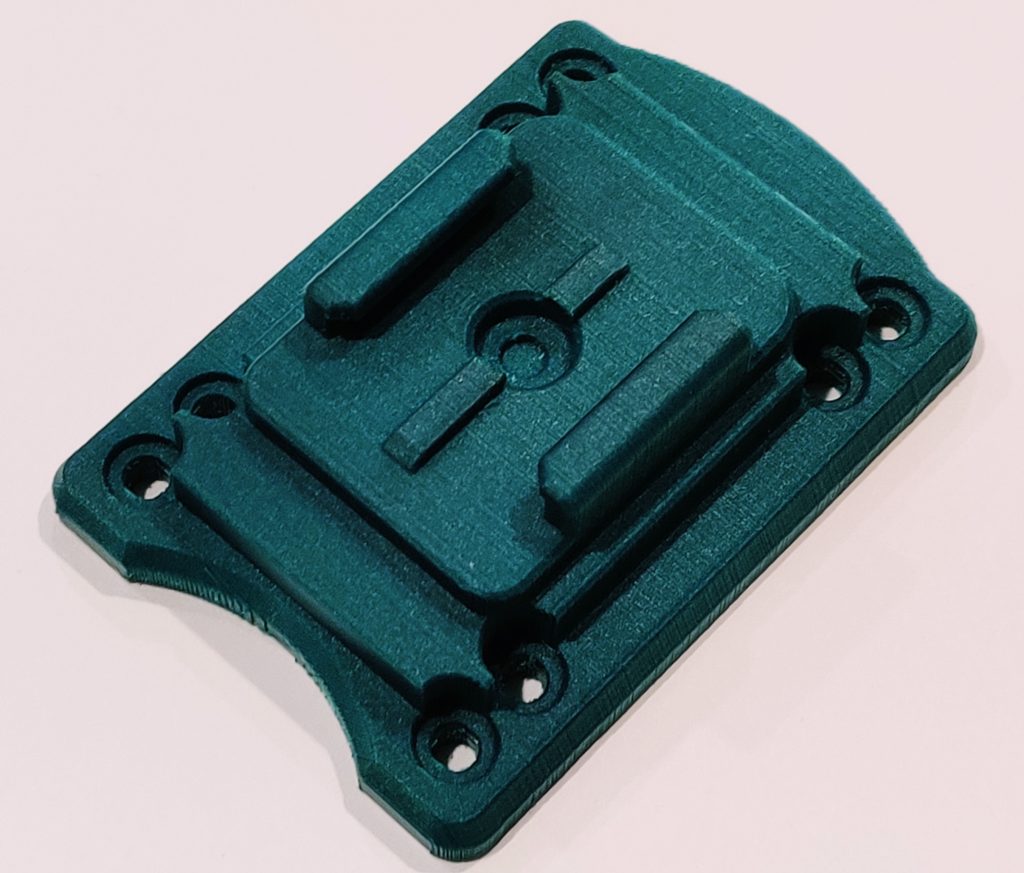 Q: The Pharaoh Rises – this deck looks exceptional. Tub concave, micro-drops, concave implant compatibility. What was the inspiration for this deck / what disciplines were you hoping this appealed to? How do you have yours configured?
The process for making this new design was both creative and strategic. I am happy with the response it's getting from my fellow skaters, and the Pharaoh has reached my expectations internally. I had my first PHARAOH stolen, but I have since whipped up a shorter 34″ variant which we've come to call OSIRIS. I lost my prized pair of cKatanas, so I'm rocking Paris and Blue In-heats.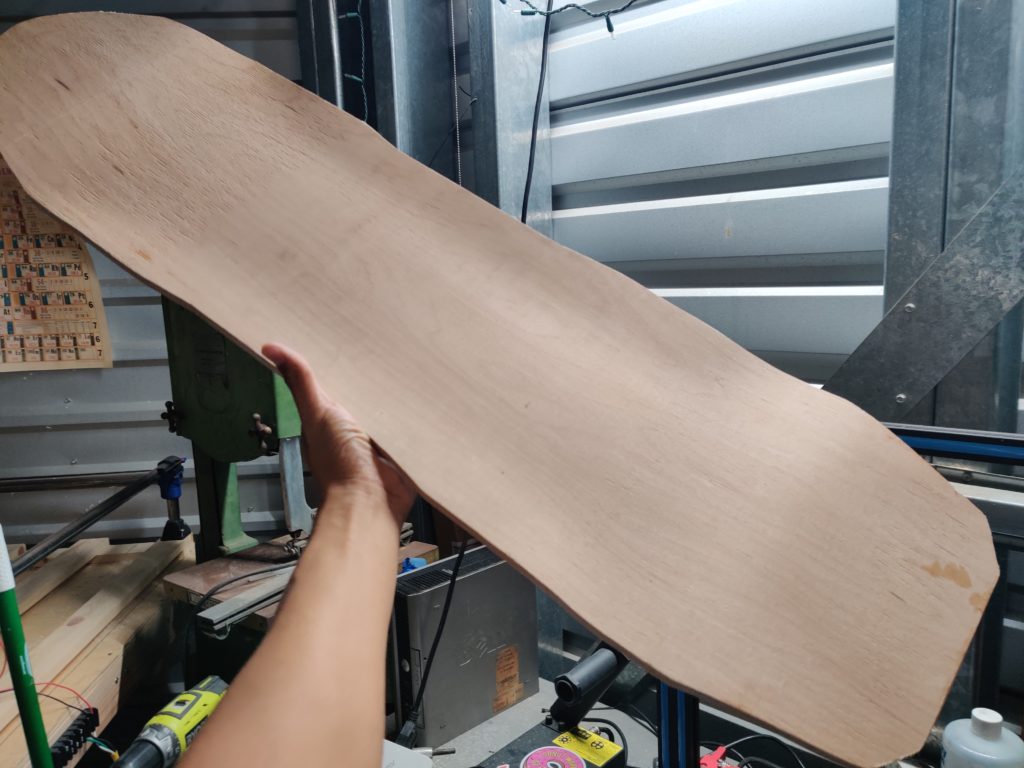 Q: How do theHIGGS TECH andHIGGS LITE construction vary?
HIGGS TECH was my first premium construction. It had 3 different typea of veneer in it! Vert-lam birch took the place of 2 maple plys, and it was a primarily bamboo layup, with two clean vertlam faceplys and a core to match. I would press it with maple cross grain for that extra torsional stiffness. 
The marginal gains I wanted to achieve were too expensive to justify, and after a bad harvest for birch one year, I discontinued the option forHIGGS TECH construction.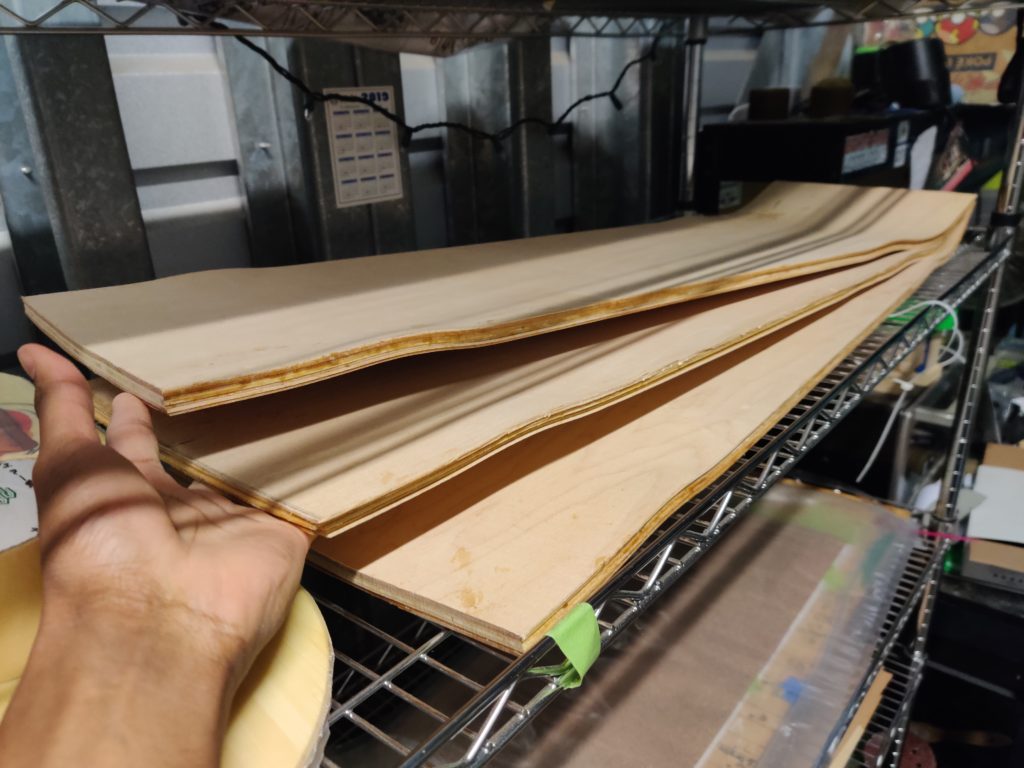 HIGGS LITE is everything thatHIGGS TECH should have been. Instead of many different materials, I have switched to thicker 1/8″ plys of vert lam bamboo for the face sheets, while maple cross grain and a 1/16″ sheet of bamboo form the core. The resulting layup is much more efficient, curing slightly faster, with a lower average weight and a lot more durability. With a better strength to weight ratio, we can effectively reduce labor and cost with this type of construction, allowing for us to include more costly features, like Urethane Bumpers standard, at a more reasonable price for customers while providing a deck that's stiffer and lighter while using less plys and staying at a familiar thickness. 1/8″ Bamboo gives me an incredible amount of options for CNC machined features with in the future, while maintaining more structural integrity than a thinner layer would provide.
Q: Where do you stand on the open sourced wheel core? Are you willing to release the information you've already aggregated in the hopes that someone else may build on what progress you've already made?
A fellow builder in the community called "Good Roads" (link) beat me to a full set! Great minds think alike and his comprehensive Videos about the topic are very professional. That being said, aftee his video came out I reached out to him, and we had a good conversation! Hopefully we can work together on a future project.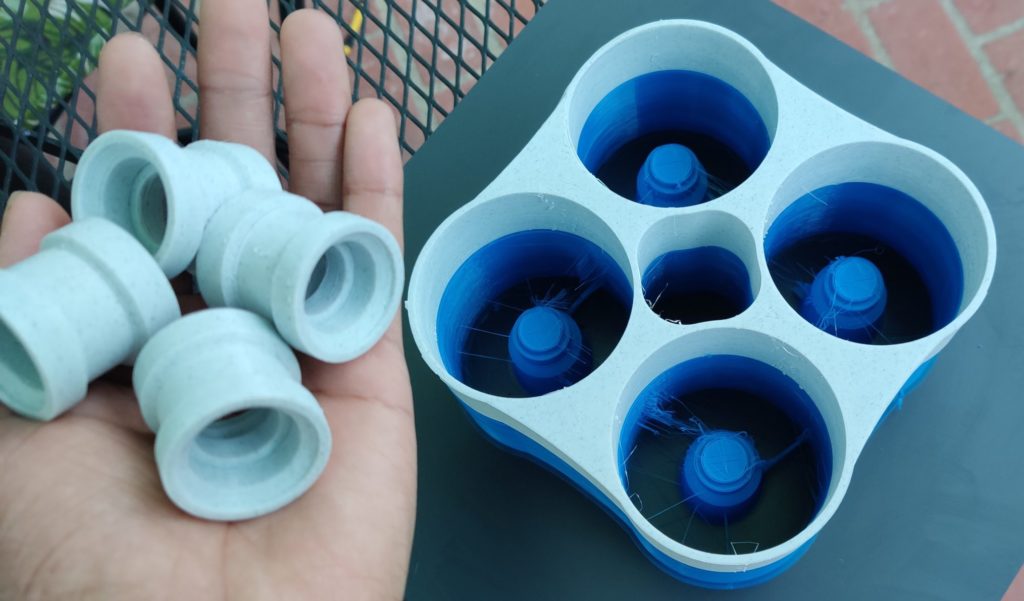 Q: Can you detail the setups you're currently riding?
Right now I am riding an OSIRIS and getting a different perspective on the gear I can get ahold of. I had a set of cKatanas that I really fell in love with!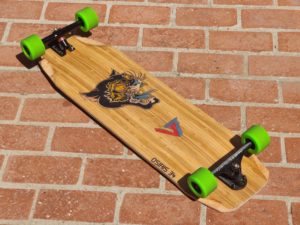 I'm also testing a couple single kicks at the moment as well.
Q: How does the 3D printed concave sample, try-before-you-buy program work? That sounds awesome and extremely customer friendly. I'd love to know more about how it works.
It's more of a per-request service that I provide through email only. Personally, I am more of a hands on person, so I can sympathize with customers who aren't satisfied with just a picture. For around the price of one of my footstops, I send a small 3D Printed section of concave for the customer to get feel, before they purchase.
Not many people have utilized this, but it IS something we do!
Q: You've hinted that you'd really like to be listed in Daddies Board Shop. Any progress on that front? Is there anything holding you back?
This is still definitely a goal that I have in mind. I'd really like to reach a broader audience in the Pacific Northwest, because the epoxy I use is slightly alkaline-resistant and I think it would be useful for some of the winter skating on salty roads they try to squeeze in. I love Portland and I definitely need to see Maryhill again now that I am a man, so really it would be a match made in heaven to stop there on the way and see my hard work on display in such a well known shop.
With proper scheduling, and adequate funds, I am able to reasonably meet my Deck production goals. Unless there's custom art involved, this is all solo work! I'd love to get a batch cooked up for any shop that's willing to support what my friends and I are doing.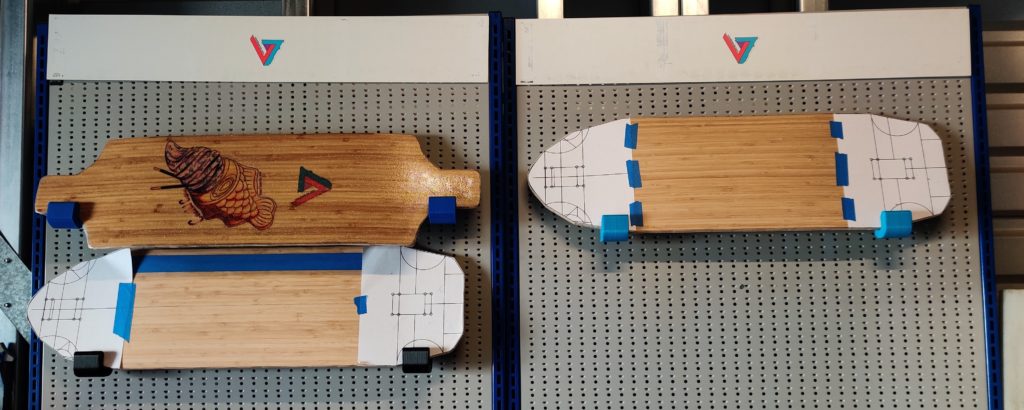 Q: What's up with that 3D printed composite fabric? Looks awesome and appears to have a great deal of potential.
All credit goes to @Shoreydesigns for his original conception and vision of 3D printed fabric.
I have merely considered it's potential application in my board manufacturing. I've had a couple brief interactions with Shoreydesigns and I showed him what I had come up with at the time and a little bit of what I had planned with it.
Q: As you know the dancing scene has really been taking off recently. Your proposed dancer with a Basalt Fiber is rather interesting – it's a pretty exceptional material. Strong, cost effective, affordable and environmentally friendly. Can you share anymore details on this board? How long until it would be available? What would the construction process look like?
2021 is the goal for this deck. truthfully it's been long overdue but I think people will appreciate the design behind it.
44″ with a double kick! This deck is going to be much much more difficult to get just right than many of my other decks so I feel like it requires a new construction type. The Basalt fiber should help bridge the gap between strength and flexibility that a deck like this really needs to leverage. I have a very reliable kicktail design, so you will see a lot of similarities one of our predecessor decks the 3310.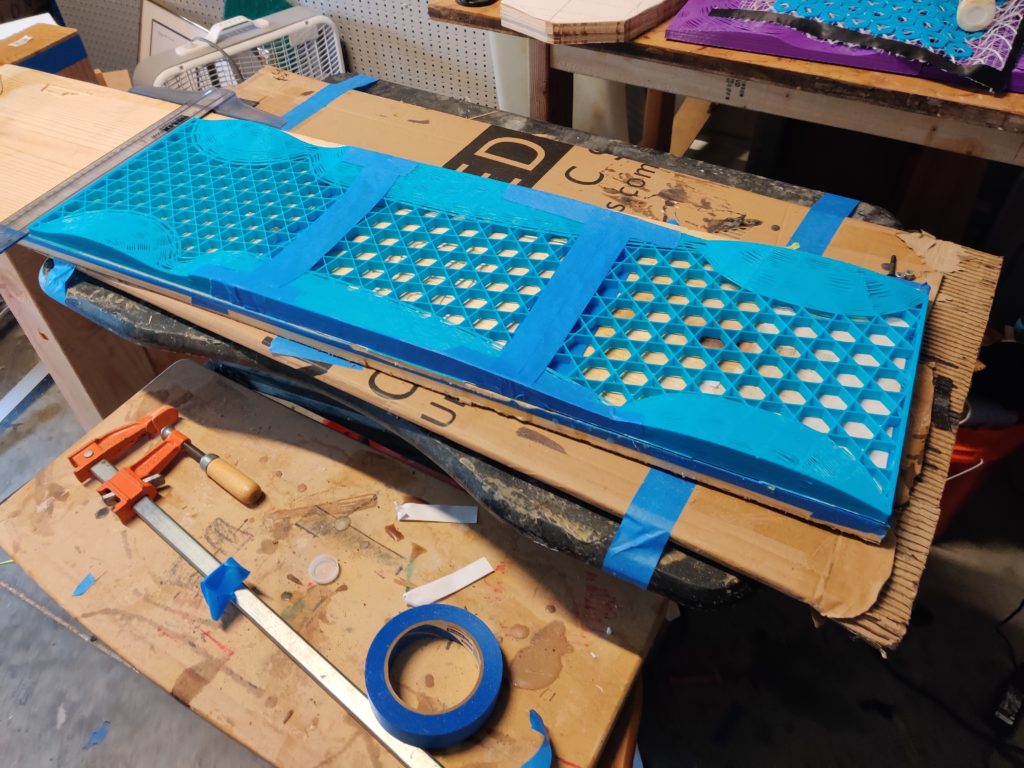 Q: Anything else you'd like the readers to know?
A lot has happened in the last year thats finally pushed Voxel Boards into a more capable position.
The last half of the year will be a bit of a wind down before the Spring. As September rolls around, our End of Summer Update will be in full swing. I will release a handful of new products and decks in preparation for the next season, and right in time for the Holidays. We'll have plenty of footage to go through in the colder months.
I'm excited to release more Media content than ever! Now that our brand is more established and our products more tested than ever, I am looking forward to getting out there, winning some races with my team, and going on skate trips again. It's a brave new world!
---