When it comes to manufacturing longboards, not many companies have taken on the endeavor of making custom longboards with custom concaves and custom shapes for the customer- most companies engineer a diverse lineup of boards and sell them throughout the year. This means that in many cases, the rider's style comes to match the board- not the other way around. Now you might think that it should be that the board is made to the style of the rider, and the guys and gals at Subsonic Longboards feel that way! Since 1999, Subsonic has been creating boards of all kinds for all different people.
This year, they emerged with a new, sexy line of boards that are pre-made, but nonetheless incredible. The Blackout Series features a high-contrast graphic made of a white overlay on a black background. The graphics are then accented by colored side-rails of various bright colors, which really gives the boards a futuristic look.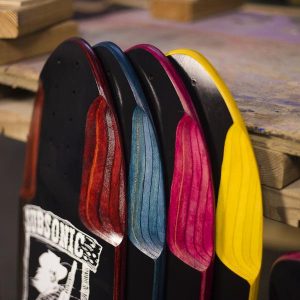 The catch on these boards is that they're extremely cheap- that's because they're actually cosmetic blems that Subsonic has repainted and refurbished to sell as their Blackout lineup- and if I may comment, that sounds like they're reducing waste and making sure each longboard goes to a loving place!
This year, they have many variants of two boards- the Shadow 37 and the Talon 37. All boards come with the signature black and white graphic, but are stained on their sidewalls and wheel wells.
The Shadow 37 is 37 inches long with a hefty kicktail on the rear end. The board features slight rocker on the front end to give it a +4 degree wedge, and has Subsonic's proprietary tri-plane radial, which is a smart mixture of large tub and radial concaves. There's a small, half-inch microdrop at the front and the board is overall, 9.5 inches wide.
The Talon 37 is a board of the same length, with a unique wedging scheme going on for pumping, dh, and long distance pushing. The +12/-12 degree wedging scheme is extremely powerful when it comes to dh and pumping, and it doesn't have a bulky drop like some other wedged drop decks. There's also a slight taper, which is comfortable to stand on. It's great for drfting, as your back foot doesn't have to move as much between rails.
Processing…
Success! You're on the list.
Whoops! There was an error and we couldn't process your subscription. Please reload the page and try again.