Pantheon Longboards is one of those longboarding brands that keeps popping up in our reviews–they keep pushing out great gear! Not a problem for us. We are happy to keep sharing news about their boards.
Check out the latest reviews of Pantheon's gear from our team. We've got plenty more on the way.
About the Company
Pantheon's community is growing and growing. Despite the humble nature of Jeff in our interview with him, linked above, you can see the passion and the dedication to quality in how their product has developed over the past few years. Even though you can purchase a few other items from them, Pantheon sticks mostly to their boards as their main product.
Couple that with great riders like Chase Hiller, Eric Burgeios, and Andy Atchinson on their roster of brand partners and we see a bright future for Jeff and his team! We're happy to be a small part of their journey and can't wait to review their SCOOT, SEED, and Ember Mini longboards.
Who Are The Boards For?
Downhill longboarding. It's what they're known for!
The beauty of a great longboard is that it can be really versatile. That means that the downhill boards made by Pantheon can be used for plenty of different things, including free riding and commuting–downhill boards are usually great for any type of long distance pushing. They design their boards with a focus on performance and technical specifications as opposed to design fads.
Pantheon sells surfboards and skateboards in addition to their longboards.
The Boards, Gear, & Interviews
---
Pantheon Sage – Review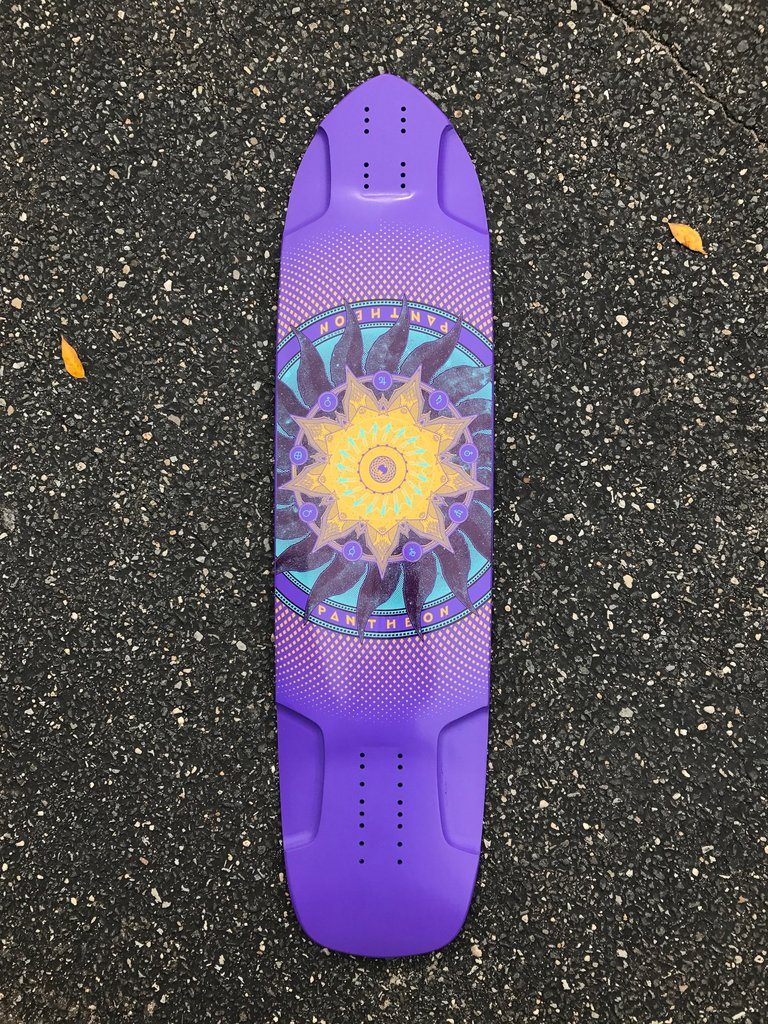 Pantheon just dropped a super limited run of their Sage deck featuring the Purple Trip Graphic. Only five of these are available! The Sage features subtle refinements from a two year pursuit of the perfect downhill skate. Pantheon focused on changes to the drop, size and concave to give the rider freedom to move while maintaining that locked-in feeling.
Read the full review of the Sage below.
---
The Sacrifice, by Pantheon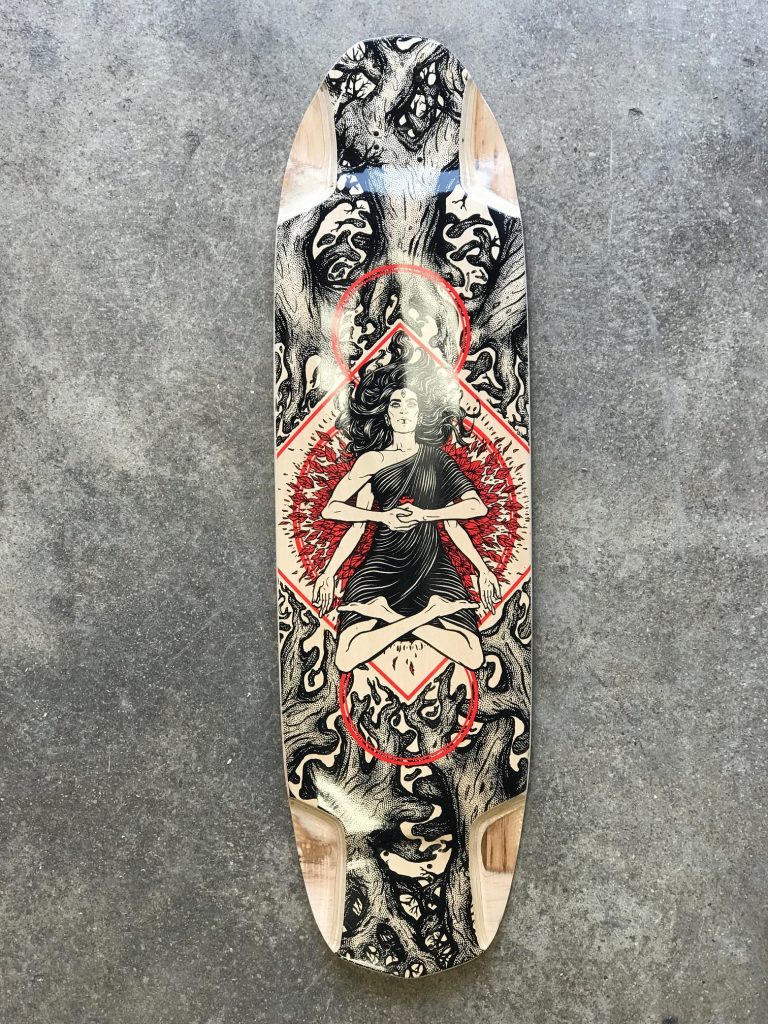 When it comes to community involvement with a company's creation of a product, Jeffrey Vyain of Pantheon is one of the best. Ever since the founding of Pantheon, Jeff has always been active online on Facebook groups, writing posts and comments engaging his local community and riders spread far and wide…
---
Pantheon Embryo – Review

Pantheon's Embryo is a slick combination of design and features. A really killer graphic lends to the idea that from the tree comes the deck. Flush mounts, variable wheelbase options and CNC'd wheel wells flush out the bottom.
You'll find more photos in the review below.
---
Interview with Pantheon

We are very excited to sit down with Jeff Vyain the owner and innovator of Pantheon Longboards to discuss the ups and downs of being a longboard company. Jeff has been skating since he was a kid, got into both downhill and freeride and now makes his own boards for everyone to shred. He offers a wide range of experience and we appreciate him giving us some time to pick his brain.
Pantheon Longboards in Action
Pantheon Trip – Commuter Board for All Levels
The Double Drop from Pantheon is true to its name with a highly unusual, and totally rad, deep deck. It'll turn heads on your commute and looks like an absolute blast to ride. It's a beautiful board and a little bit of a steer away from the technical downhill boards that Pantheon usually puts out.
It's perfect for someone looking to support one of their favorite brands that may not have access to top-notch downhill routes near them. It's a great board for beginners and advanced skates alike.
Downhill on The Sacrifice
Watch as Chase and Austin show us some downhill footage from their trip to Colorado. The Sacrifice hasn't made it's way back into the Pantheon lineup but we think it could be time for a revival!
Certified shredding.
If you want to get updates on new releases from Pantheon Longboards and all your favorite brands, enter your email below and you'll hear from us when we hit publish.
---
Processing…
Success! You're on the list.
Whoops! There was an error and we couldn't process your subscription. Please reload the page and try again.
---