As the popularity of traditional kingpin trucks on larger decks increases for freeride and slashing purposes, companies are catching on and producing traditional kingpin trucks of their own. First it was Caliber, then Paris, and now, Atlas Truck Co.
For more details on the difference between different types of trucks and tips on finding the best trucks for your longboard, read our ultimate guide to the best longboard trucks.
Some trucks are much too specialized for any general use. Trucks like Tracker (specialized for pool) aren't useful for flatland. Others, like Independents (specialized for street), aren't particularly good at high-level pool skateboarding.
With these issues in mind, Atlas burst into the market with an innovative truck that offers the same strength of their reverse kingpin trucks, with a geometry which capitalizes on a do-it-all, generalized geometry that can realistically be used to do everything. In technical terms, the truck is a split between Thunder and Independent, a healthy mix of two of the most popular trucks on the market today.
The Atlas TKP really gains inspiration from recent trends in RKPs. For example, there are built-in speed rings; a modern innovation to nuts and the inside of hangars to eliminate the need for extra, bothersome washers. Precision is also offered- a CNC machined pivot ensures a tight fit and slopless operation when turning or carving into flips and tricks. The ride height is a while 1mm lower than Independents, and come with a 91a stock bushing pair to combat stock hangar/wheelbite. The strong chromoly steel axle tops it off, making this truck a future opponent to the street trucks of the old.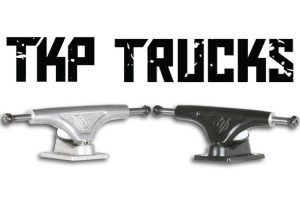 Processing…
Success! You're on the list.
Whoops! There was an error and we couldn't process your subscription. Please reload the page and try again.